This THURSDAY – Learn firsthand about the plans to Develop Naples' 41-10 Design District
October 25, 2021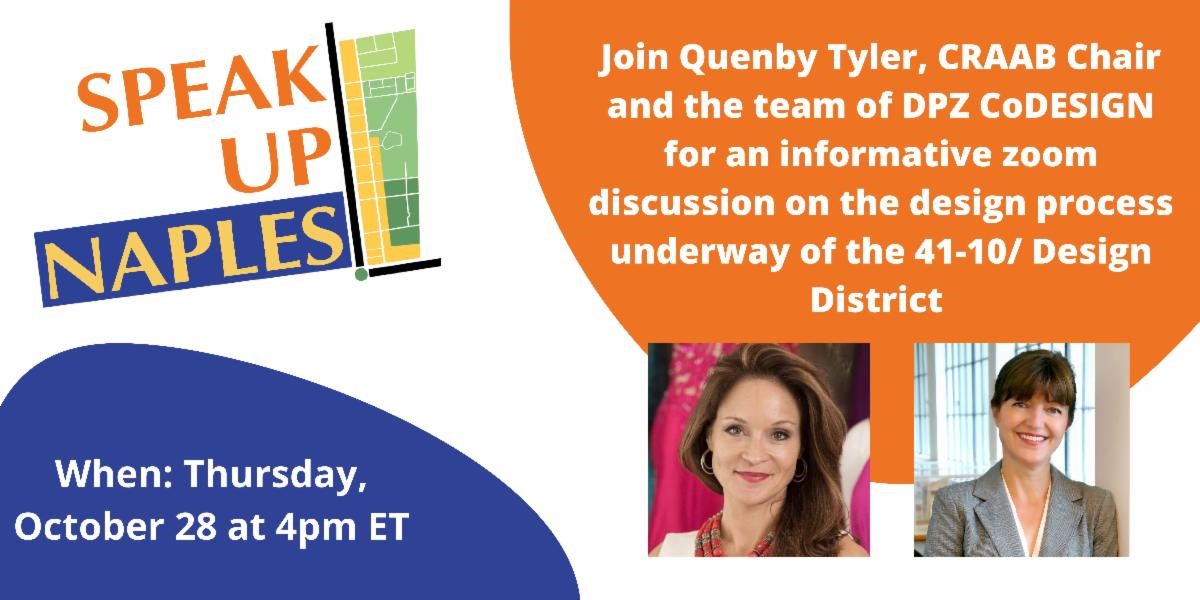 We hope you can join us Thursday, October 28th from 4:00-5:00 pm for a pre-Charrette Zoom call.
Get Excited, Get Engaged, Get Informed – Join Quenby Tyler, CRA Advisory Board Chair and the team of DPZ CoDESIGN, for an informative Zoom discussion on the design process underway of the 41-10 Naples Design District.
If you cannot attend, please register and voice your opinions at www.speakupnaples.com
What to expect:
The team of DPZ CoDESIGN will be answering the questions of all things Charrette:
Who is DPZ CoDESIGN and what is their history in Naples?
What is a Charrette and why should I care?
What can I expect during the design process?
How will my voice be heard?
How long will the process take?
When can Naples residents, District business owners, and District commercial property owners expect to see results?
I can't make it to the actual design process, what can I do to get involved?
& more!
The team will walk us through the Charrette schedule and will answer any design and charrette-related questions. Submit your questions by replying to this email or tune in to the Zoom discussion and ask your questions in the chat. Please share this invitation with your friends, family and colleagues – EVERYONE who cares about the future of Naples!