Emillions Art presents exhibition of rarely seen David Bowie photos by celebrity photographer Markus Klinko
January 3, 2022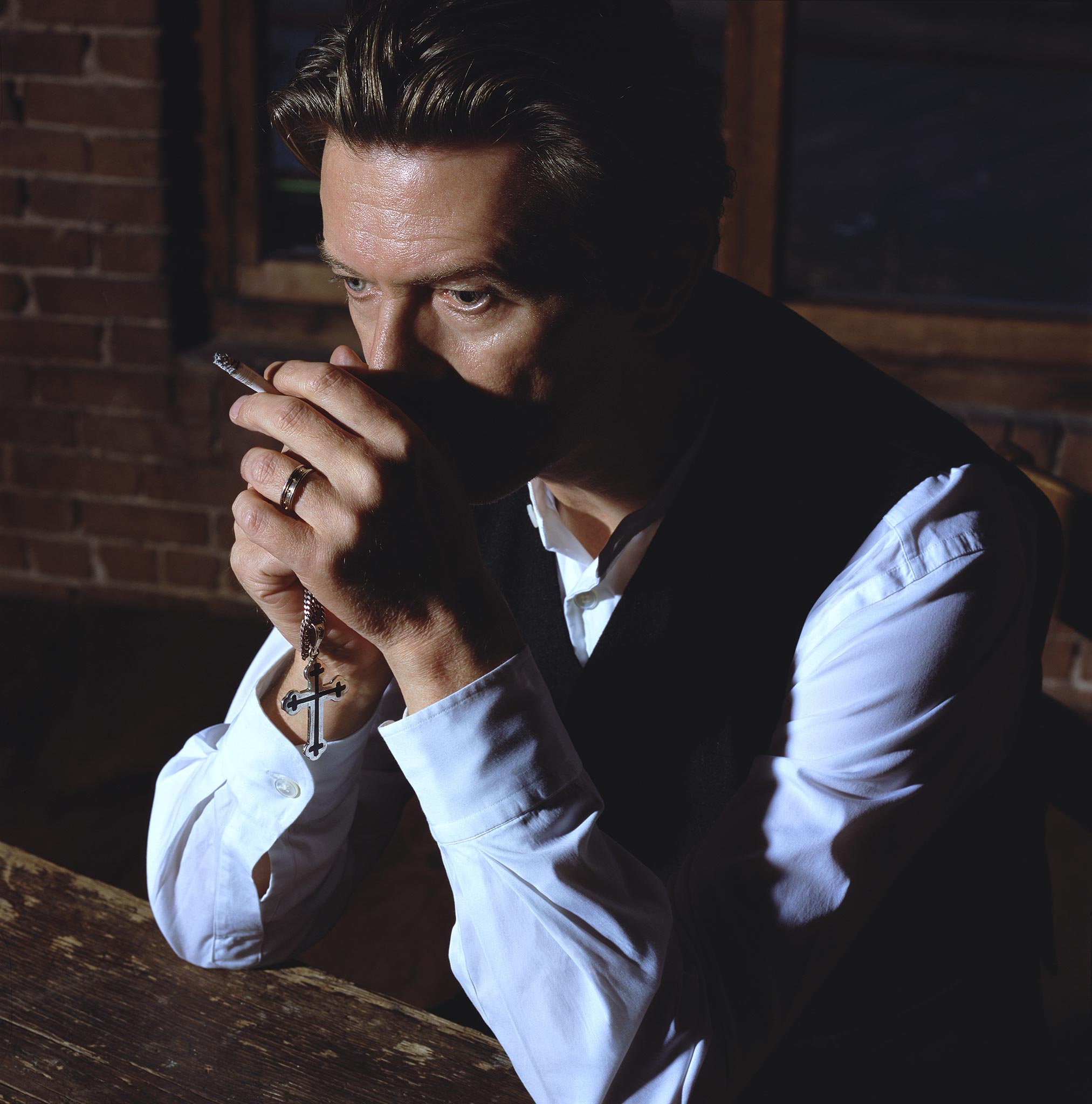 10-day exhibition opens Jan. 8th commemorating what would have been the rock legend's 75th birthday.
Naples, FL: (January 3, 2022) To commemorate what would have been David Bowie's 75th birthday on Saturday, January 8th, Emillions Art founder and global art consultant Marlissa Gardner announces the opening of a 10-day curated exhibition of iconic and haunting images of the rock legend taken by internationally renowned fashion/celebrity photographer Markus Klinko.
"These unveiled photos have rarely been shared publicly before," explains Ms. Gardner, noting several images were originally captured for the artist's 2002 Heathen album and the cover of GQ's "Men of the Year" issue. "The transformation of Bowie in the photographs Marcus shoots is staggering. His styling and use of lighting creates an aura that tells you a great deal about the subject. The pictures pull you in and you just can't stop looking at them," she adds.
The series of signed and numbered limited edition prints ranges from surreal and highly stylized characters – such as Bowie carrying a baby or holding a wolf on a lead – to pared-back portraits. All the images were inspired by the songs on the album and co-created with Bowie.
The Bowie photo exhibition is open to the public daily Jan. 8 – 18, 2022 at Emillions Art showroom located on the second floor at 837 5th Avenue South in Naples, Fla., 10 am until 5 pm. For a private viewing, call (239) 687-3101.
About photographer Markus Klinko
Born in Switzerland of French, Italian, Jewish, and Hungarian descent, Klinko spent his early years training to become a classical harp soloist. He studied at the Conservatoire National Supérieur de Musique in Paris. Later, Klinko signed an exclusive recording contract with EMI Classics, as well as a management contract with Columbia Artists Management. He received the Grand Prix de Disque for his recording of French harp music, with members of the orchestra of the Paris Opera Bastille. Klinko performed in recitals and as a featured soloist with symphony orchestras around the world. He was also regularly featured in such publications as Vogue Italia, Vanity Fair, GQ, The New York Times, Madame Figaro, Stereo Review, and Ongaku no Tomo.
After a hand injury, Klinko decided to become a fashion photographer and retired from his international concert and recording career. During that time, he met Indrani, who later became a regular collaborator in her role as his studio's digital post production artist and photo editor. Isabella Blow discovered Klinko's work while at the London Sunday Times and commissioned cover stories from the emerging photographer. Around the same time, Ingrid Sischy, at Interview magazine hired Klinko for various shoots. Klinko was originally asked to shoot Bowie for the Heathen album artwork after he had photographed Bowie's wife Iman for the cover of her book, I am Iman.
From there, he went on to create most iconic album covers including Beyonce's Dangerously in Love and Mariah Carey's The Emancipation of Mimi. He has photographed Lady Gaga, Jennifer Lopez, Britney Spears, Mary J. Blige, Kanye West, Anne Hathaway, Kate Winslet, Will Smith, Eva Mendes, Kim Kardashian, and Naomi Campbell. His editorial clients include Vogue, GQ, Vanity Fair, Harper's Bazaar, and Interview magazine. Brands such as Lancôme, L'Oréal Paris, Nike, Hugo Boss, Anna Sui, Pepsi, Skyy Vodka, and Remy Martin have hired Klinko to create advertising campaigns. His campaign for Keep A Child Alive raised over one million dollars for children with AIDS in just three days.
Many of Klinko's celebrity photographs can be seen in his coffee table book ICONS (Perseus). Lincoln Center in New York presented an art exhibit showcasing many prints from the book and since, art galleries and museums around the world have featured his work. Klinko has appeared on E! News, Access Hollywood, Fashion Television, CNN's Showbiz Tonight and Larry King Live and has been the subject of the reality show Double Exposure on the Bravo network.