Exclusive Sneak Peek of FLYING at TNP!
February 17, 2022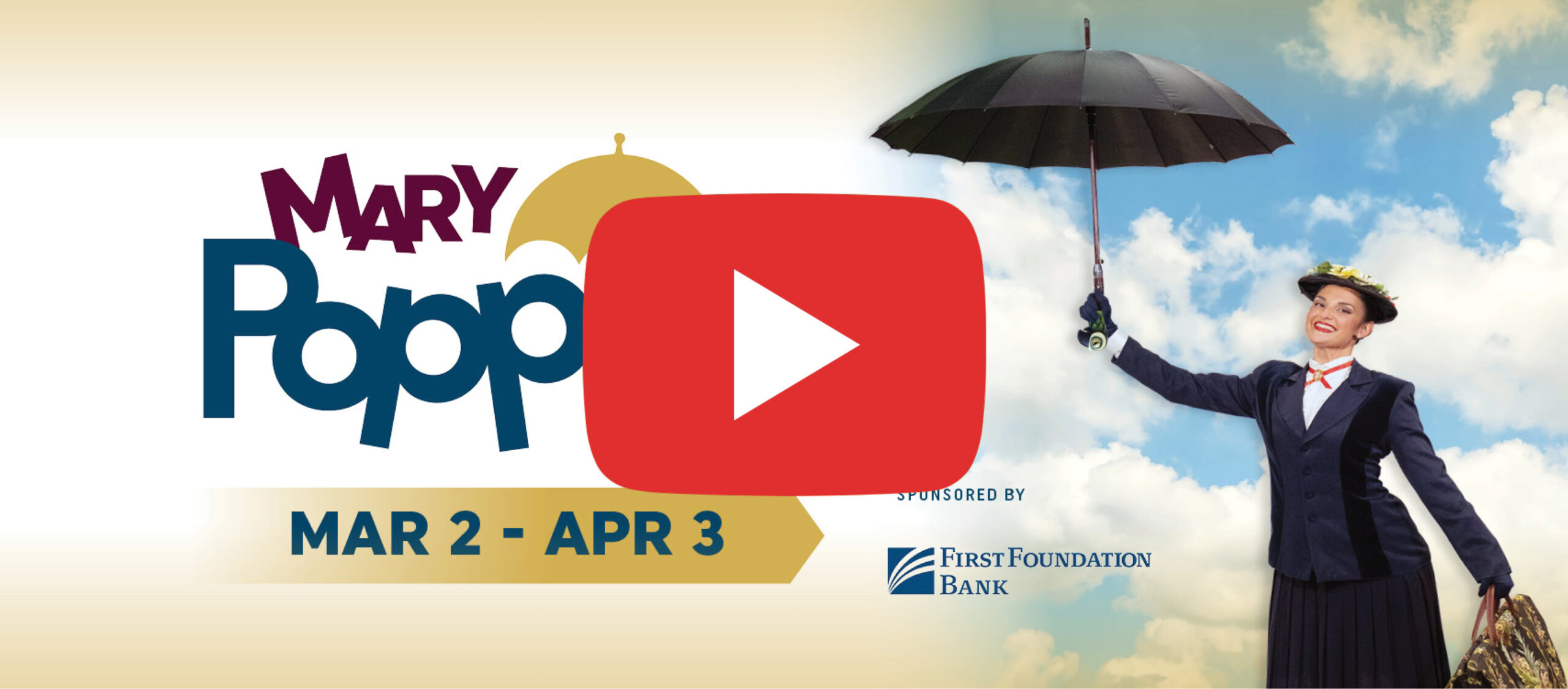 Don't miss your chance to see Mary Poppins fly at The Naples Players! Click the video above to watch our behind the scenes look at this amazing process taking place right here in Naples!
For one month only, you can catch the magic of this iconic show in Downtown Naples! It's not every nanny who can fly with an umbrella and explore magical worlds filled with surprises and songs that capture our soaring imagination. Be sure to get your tickets before they're gone!
To buy tickets, click the button below or call the box office at 239 263 7990 today! Be sure to continue reading about one of our backstage volunteers for Mary Poppins, Jeannine Hedberg…
---
Volunteer Feature
Theater Operations – By: Lauren Speirs
Not all of our volunteers appear on stage – some are building sets, sewing costumes, organizing props, or even ushering you to your seats! One such volunteer is Jeannine Hedberg, who will be working the lights, specifically spotlights, for The Naples Players (TNP) production of Mary Poppins.
After vacationing in Naples for twenty years, Jeannine finally moved here sixteen years ago from Michigan. She works full time in property management but in her spare time, she volunteers to work the spotlights! "Doing the spotlights is just a fun break from the day. My days get really involved at work. What I love with doing spots (or the light board) is the details – you're watching something and you get a cue. I won't say it's meditative but it's really focused and I enjoy that."
Click Here to Continue Reading Jeannine's Story
---
It's never too late to learn with TNP!

Tuesdays, March 1 – April 5
There's nothing more fun than musical improv! This class is open to anyone whether you've studied improv or are a newbie. In this class, you'll learn the fundamentals of improv and improvising a song. We will also cover stage presence, focus with confidence, rhyming, and mindfulness. This class is available in person or virtually!
Saturdays, March 19 – April 23
This class concentrates on the fundamentals of improvisation. Learn the philosophy of "Yes, and …." Improv is an essential part of comedy in this day and age. It is also something every person uses in their daily life. You will learn warm-up games, fun "situation" scenarios and how to work through scenes. Actors of all skill levels are welcome as well as non-actors looking for a fun skill to learn.
Fridays, April 1 – May 20
Learning how to be genuine and truthful on stage is where it all begins. In this acting course, students will learn technique through monologues and scene work as well as how to bring truth to their acting. This class will help the actor become more comfortable performing as they understand what drives their character.