For the Love of Art: An Arty Party – Two Organizations Team Up to Support the Arts
March 5, 2022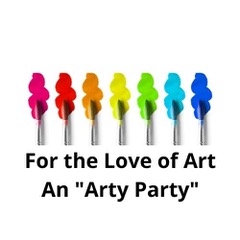 The Naples Woman's Club (NWC) has announced that it will team up with the Naples Art District to present fun and unique event to promote the arts on April 5, 2022, at 7 pm. Held at the Naples Woman's Club, guests will be given a number when they arrive; numbers will be picked in a random so each guest can choose an object of art created and donated by a Naples Art District artist. Then they will quickly "dart" to select their favorite with everyone leaving with something special. Also included will be art demonstrations, several silent auction items, bubbly, and desserts for the guests to enjoy.
Both the Naples Woman's Club's Arts & Culture Committee and the Naples Art District are dedicated to promoting the Arts; net proceeds of the event will support art grants to schools and organizations and youth art scholarships. The tickets are $100 and will include a donation to these programs. Tickets can be ordered online at www.napleswomansclub.org.
"Guests at Arty Party will be enjoying delicious desserts, learning more about the Naples Art District artists and will be supporting young artists in the community", said Naples Woman's Club Event Chair Elaine Sulat. Paula Brody, President of the Naples Art District agrees; "The talent of our artists is truly remarkable, and we know everyone will have a fun evening "darting" for the original artwork of their choice while helping to promote the arts!"
The Naples Woman's Club, founded in 1922, is a proud member of the General Federation of Woman's Clubs and is dedicated to enhancing the Naples community through philanthropic activities and volunteer service. For more information about the Naples Woman's Club, please visit www.napleswomansclub.org, or call 239.262.6331. The Naples Art District is a non-profit organization and is the home to the largest concentration of working artists in Southwest Florida. The District hosts 90+ artists tucked into several square blocks along Shirley Street and J&C Boulevard just north of Pine Ridge Road. Visit www.Naplesartdistrict.com to discover this cultural gem in our community.
Event: For the Love of Art: An Arty Party
Date: April 5, 2022
Time: 7:00 to 10:00 PM
Place: Naples Woman's Club, 570 Park Street, Naples, FL 34102
Tickets: www.Napleswomansclub.org
For more information contact Stacy Vermylen, stacynwcmail@gmail.com.