Give Dad a special cut of what makes Chops City Grill great!
May 20, 2022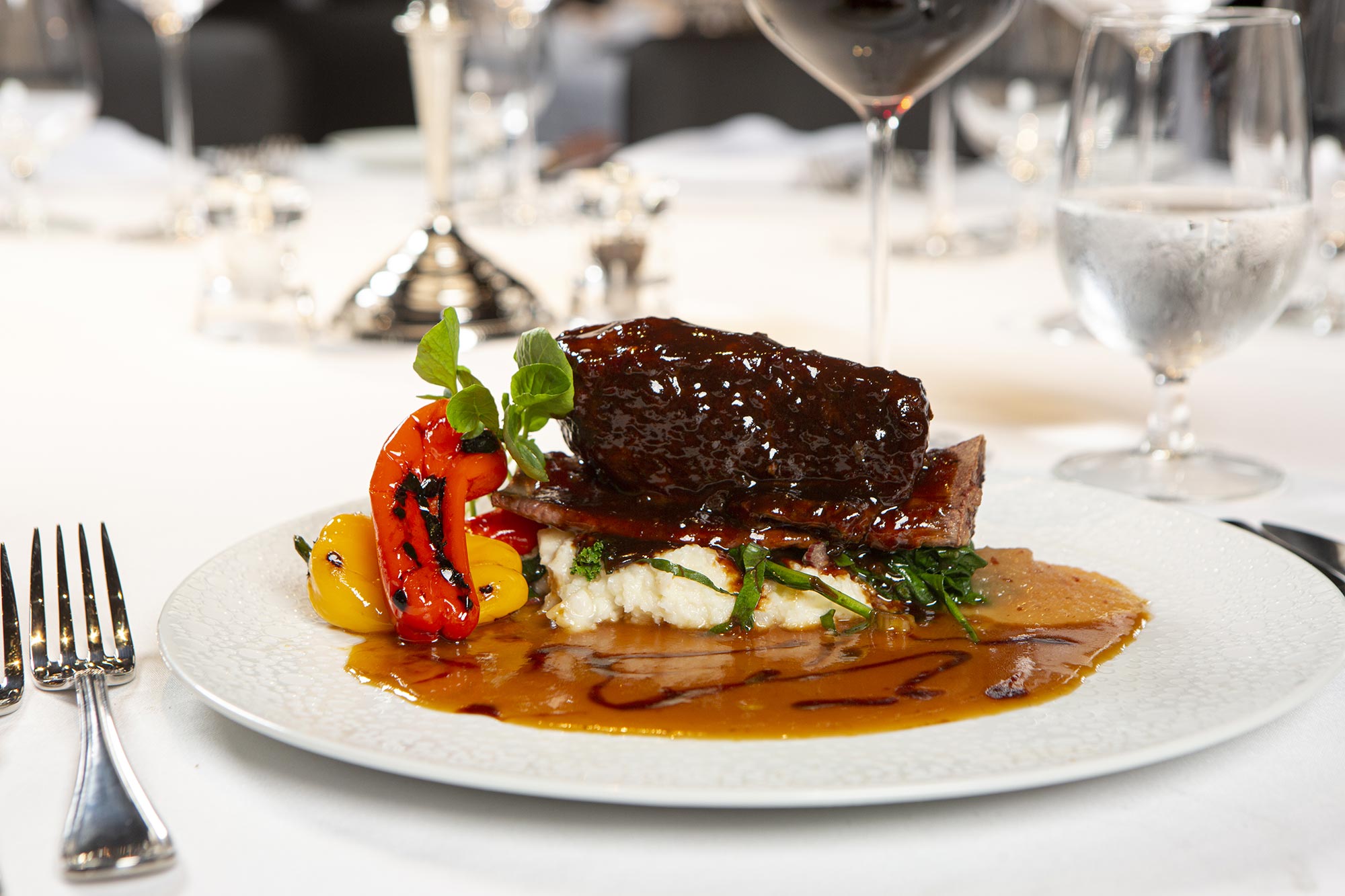 "The Classics" four-course tasting menu­ pays homage to traditional steakhouse specialties
Naples, FL: (May 20, 2022) . . . Give Dad a special cut of what makes Chops City Grill great — a four-course tasting dinner fittingly called "The Classics," created by chefs Jason Mattozzi, Raf Elisea and Francis Pinscher, paying homage to time-honored, long-loved, traditional steakhouse specialties.
"The Classics" menu will be available at both Chops restaurant locations in Naples and Bonita Springs for a limited-time-only, Wednesday, June 15th through Father's Day, Sunday, June 19th.
Guests are advised to allow two plus hours for the overall dining experience. The entire table is required to participate with no substitutions. Cost is $145 per person with an optional $125 wine pairings curated by corporate bar managers Kendra Rizzi and Tim Ortyl.
The Classics Menu with wine pairings
First Course (choose one)
Oysters Chopafeller – Chops' interpretation of the traditional Oysters Rockefeller appetizer exudes decadence and has been a mainstay on Chops' dinner menu since the restaurant opened in 1997. Three large oysters are stuffed with a king crab mixture enriched with roasted bacon, spinach and parmesan cheese, miso (slight maple flavor) and yuzu (citrus), then baked until bubbly and topped with a splash of yuzu mustard.
The Short Stack ­– Two crab cakes of fresh Maine lobster, blue and Alaskan king crab are baked and stacked high are served in a sauce of roasted sun dried tomatoes, garlic and champagne and garnished with a petite jumbo lump crab salad.
Wine Pairing: Champagne, Canard-Duchéne "Cuvee Leonie," Brut, France, NY
Second course (Choose one)
"Best Ever" Clam Chowder – made-to-order New England-style chowder topped with five freshly steamed littleneck clams, silky Yukon gold potatoes and served with oyster crackers. For every batch of chowder, Chops' original recipe starts with a clam stock made in-house daily. Why fresh clams? According to Chef Jason, fresh clams are briny, slightly sweet and more tender than canned clams.
The "City Style" Salad — Chops' version of the classic steakhouse wedge salad features chopped baby iceberg, radicchio, romaine and Boston bibb lettuces mixed with artisanal blue cheese, sliced carrots, radish, celery and croutons, placed in a ring mold and topped with chopped fresh tomatoes and micro cress. The plate is garnished with homemade blue cheese dressing, candied black walnuts, and rashers of roasted bacon.
Wine Pairing: Pinot Noir, The Prisoner "Eternally Silenced" California 2019
Third course (Choose one)
Pan Seared Black Grouper — 7 oz. fresh whole black grouper fillet, pan seared and baked, served with a wild mushroom risotto, blanched baby bok choy and rock shrimp amid a "screaming hot" sauce of sambal (fiery chile paste), fresh tomatoes, and citrus. A Chops favorite since 1997!
Chris' Braised Short Rib – corporate chef Chris Metzler's legendary 12 oz. "bone-in" beef short rib is cooked slowly (until it's just about to fall off the bone), glazed with a port wine BBQ sauce and served with roasted rainbow-colored mini peppers, chipotle apple sauce, sautéed spinach and whipped parsnip potatoes.
Filet Mignon — 10 oz. center cut filet mignon is presented with a choice of 10 vegetable sides ranging from traditional creamed spinach to innovative jalapeño au gratin potatoes to individual corn crème brulees and more!
Black Pepper Seared Tuna – 7 oz. of fresh top-grade tuna, coated in crushed black peppercorns is seared to rare, then sliced into 7 pieces, and served atop Chops' signature fresh blackberry and yuzu-soy sauce. The tuna is accented with wasabi whipped potatoes and a stir fry mixture of shiitake mushrooms, Asian herbs, spinach, bok choy, ginger, garlic, mango, red pepper and soy.
Wine Pairing: Cabernet Sauvignon, Caymus, Napa Valley, California 2019
Fourth course (Choose one)
Fresh Key Lime Pie – a colorful, classic combination of fresh key lime juice and whipped cream in a homemade graham cracker crust. Every serving is placed on a beautiful blue rimmed plate, topped with a 2-inch rosette of whipped cream and showered with lemon and lime Jell-O sprinkles that turn the color of the whipped cream into a fun glow of yellow and green. Pie is garnished with a dehydrated lime slice and fresh mint sprig with yuzu and yuzu-blueberry gel dots to add flavor and style.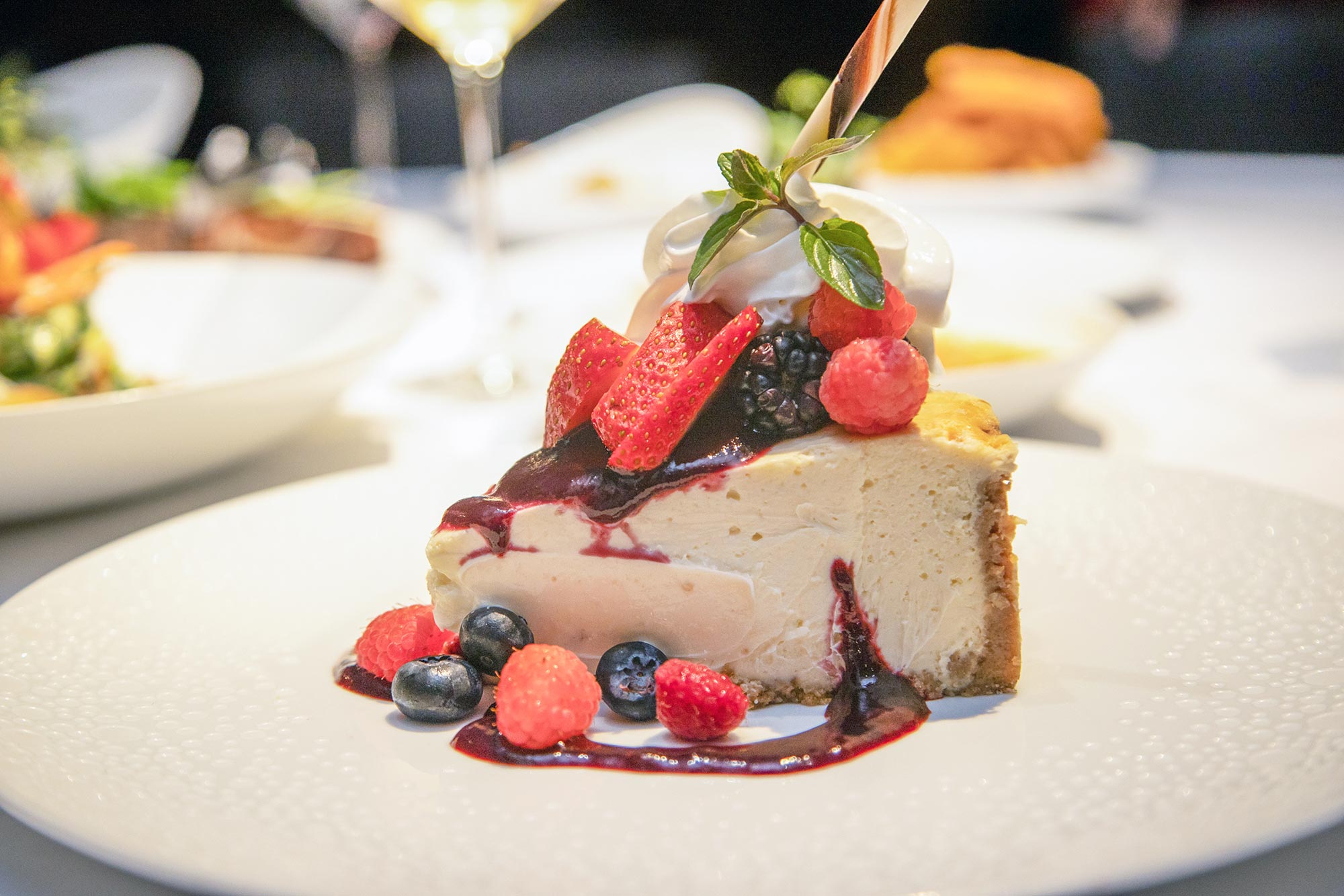 King of Cheesecake – large-enough-to-share portion of creamy, super soft and light textured homemade cheesecake with a distinctive crust. Cheesecake is served with seasonal fruits (blueberries, raspberries, blackberries and strawberries) alongside fresh blueberry sauce and garnished with whipped cream, a fresh mint sprig and a striped, white-and-dark chocolate stick.
Wine Pairing: Daddy Bucks Brew. Bailey's Irish Cream Liqueur and Kahlua with Tannat Whipped
Spirits fans should also peruse Chops' huge menu of bourbons, Scotches and over 100 whiskey selections. Be sure to treat Dad to one of its award-winning original recipe craft cocktails such as the captivating Curse of the Leprechaun, a complex flavor combination of spicy, herbal, smoky, tart and fruity, thanks to Pastoe Blanco tequila, fresh homemade strawberry shrub, Hellfire habanero bitters, house-infused Jalapeño syrup and muddled fresh mint. This signature cocktail is hand-stirred in a glass carafe then poured into a crystal glass and garnished with a charred Italian long pepper. Or consider one of Chops' original recipe Manhattans ranging from the West Village, a delicious combination of James E Pepper 1776 Rye and Lucano Amaro to Little Italy, starring Presidente brandy, Partner Sweet Vermouth, Bitterman's Orange and Italian cherries to Soho, featuring 1792 Small Batch Bourbon, Carpano Antica and Regan's Orange Bitters.
Chops City Grill/lNaples, located at 837 5th Avenue South, is open 5 pm until 10 pm daily with both indoor and al fresco dining. Reservations are requested by calling (239) 262-4677 or online chopscitygrill.com. Chops City Grill/Bonita, located at 8200 Health Park Boulevard in Bonita Springs, is open 5 pm until 9 pm daily, with both indoor and al fresco dining. For reservations, call (239) 992-4677 or visit chopsbonita.com.