City of Naples Independence Day Holiday Activities & Closures
June 30, 2022
Fourth of July Parade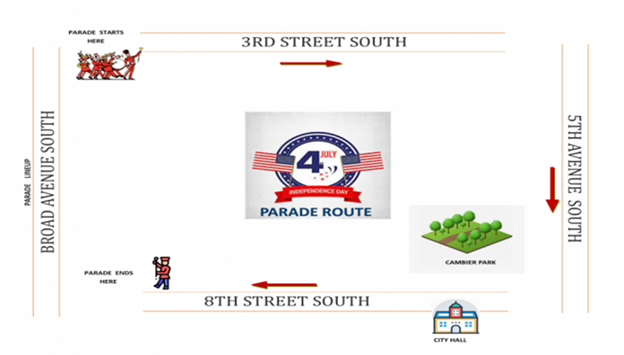 The parade will be held on Monday, July 4, 2022, beginning at 10:00am. The parade will begin on Broad Avenue South at 3rd Street South heading north on 3rd Street South to 5th Avenue South, south on 8th Street South ending at 8th Avenue South.
The following streets/avenues will be closed for the July 4th parade beginning at 7:30AM:
Broad Ave. from 8th Street South to 3rd Street South
3rd Street South from Broad Avenue to 5th Avenue South
5th Ave. South from 2nd Street South to 9th Street South
8th Street South from 5th Avenue South to Broad Avenue South
---
Fourth of July Fireworks
The fireworks will be held on Monday, July 4, 2022, beginning at 9:00pm from a barge approximately 900 feet north of the Naples Pier. The Naples Pier will be closed at 6:00 p.m. to permit first responders (Fire, Police, EMS) to establish their posts for the fireworks display. The Naples Pier will reopen at 11 p.m.
Parking is limited and first-come first-serve. Parking allowed in designated parking spaces only. There will be no parking allowed on either side of Gulf Shore Boulevard between 20th Avenue South and 8th Avenue North / South Golf Drive. Violators will be cited and towed.

Parking time limits will be enforced. All parking areas have signs to assist visitors in understanding the parking rules.
All unmetered parking spaces require a beach parking permit.
There are twenty-four (24) beach ends reserved for City of Naples and Collier County beach parking permit holders only. Non-resident parking is prohibited at these locations.
All metered parking spaces require payment or beach parking permit.
No littering.
No glass, animals, or fires allowed on the beach.
No parking of trailers, trucks, recreational vehicles or buses within one block of the beach.
Violators will be towed.

Trash – It is anticipated large crowds will be on our beaches to enjoy the fireworks. We ask all beach-goers to put trash in the receptacles or take back what you bring. Littering is a violation of the City's code and subject to a fine.
Please note that City Ordinance 24-202 prohibits the possession or use of any fireworks, including sparklers and sky lanterns, on the beaches of the city, in the public parks of the city, on the city fishing pier and parking area or on the beach access or street end rights-of-way west of Gulf Shore Boulevard in the city. Violators will have their fireworks confiscated and face a fine of $115.
---
Residential Garbage, Horticulture & Recycle Collection:
Monday, July 4th – No collection – Office is closed.
Tuesday, July 5th – Garbage & recycling normally collected on Monday will be collected Tuesday
Wednesday, July 6th – Garbage & recycling normally collected on Tuesday will be collected Wednesday
Thursday, July 7th – No change. Regular collection.
Friday, July 8th – Horticulture will also be collected on Friday.
Residents are reminded that collection will occur anytime between 7:00 am & 5:30 pm on the collection day. It is acceptable to place trash cans, recycle carts, horticulture and bulk items out the night before.
Garbage cans are collected next to the house and must be visible and accessible by 7:00 am. All garbage must be bagged and placed in a trash can no larger than 30 gallons with a tight fitting lid.
Recycle carts must be curbside by 7:00 am. The cart must be positioned with lid opening towards the street and a minimum of 4 feet clearance of other obstacles. Plastic bags, plastic wrappings, and Styrofoam products are not recyclable.
Horticulture debris can be piled, bagged in paper yard bags, or placed in a trash can without a lid but NO PLASTIC BAGS. Horticulture needs to be placed curbside by 7:00 am not exceeding 4 cubic yards.
Bulk / Oversized items are collected Monday – Friday on a scheduled basis.
The following closures & changes will occur in observance of Independence Day:
Monday, July 4th – Holiday
City of Naples Administrative offices – Closed
Fleischmann Park – Closed
Norris Center – Closed
Preserve (Center) – Closed
Arthur Allen Tennis Center – Closed
River Park Community Center – Closed
River Park Aquatic Center:

Open 7am-10am (lap swim)
10am – 3pm (Open to the public)

Anthony Park Recreation Center – Closed
Naples Pier – Closes to the public at 6pm
Lowdermilk Park – Open
Cambier Park – Open
City Dock – 7am-5pm