September Happenings at Naples Art!
September 12, 2022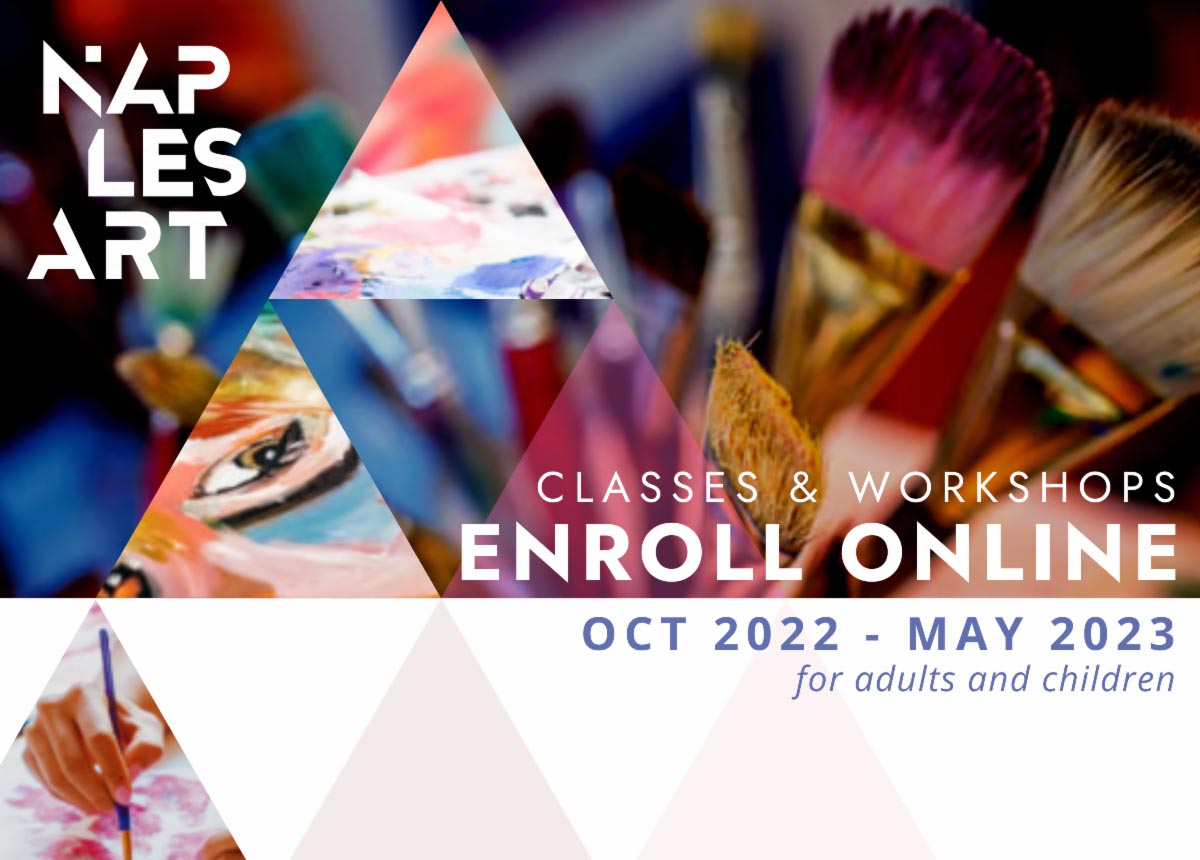 REGISTRATION OPEN: Classes & Workshops for the 2022/2023 Season!
Please join us for an exciting season of classes and workshops for adults and children of ages 4 and up! Educational opportunities are offered in a variety of media for students of all skill levels. Visit us online to register and check out the full range of classes and workshops offered here.
The first session of courses is October 10th, 2022. Enroll today!
Interested In Teaching At Naples Art?
The teachers at Naples Art are a highly valued resource and an integral part of what sets our art education program apart. We encourage instructors' participation in the activities at Naples Art and in our community at large as our cultural ambassadors!
Prior to each season, Naples Art orients instructors with our seasonal exhibition programs and events so that they may create continuity with our offerings through integrated course matter.
Please contact Nicole Whalen at nicole.whalen@naplesart.org for more information.
---
ON VIEW: The Artist's Hand: Selections from The William Louis-Dreyfus Foundation
From August 6 – October 30, 2022, The Artist's Hand: Selections from The William Louis-Dreyfus Foundation brings together a curated selection of work in different media by seventy artists from one of the most progressive and idiosyncratic collections in the United States. Amassed over a period of more than fifty years and spanning time periods and continents, The William Louis-Dreyfus Foundation is a testament to Louis-Dreyfus's aesthetic intuition, curiosity and passion for collecting on a personal level.
The Artist's Hand presents a comprehensive look at the collector's compelling vision through the lens of his interest in the artist's virtuous creative process. Intrigued by the desire to assimilate the visual language and technique of the artists he collected, Louis-Dreyfus amassed a collection that highlights the conversations between the works of trained and untrained artists, giving voice to those who were unjustly underrepresented in the art historical cannon.
Docent-Led Exhibition Tours
Friday, September 16 from 11am-12pm
Friday, September 30 from 11am-12pm
Friday, October 14 from 11am-12pm
Friday, October 28 from 11am-12pm
RSVP at Info@NaplesArt.org
$15 visitors / $10 members

Community Support
Naples Art received a generous grant from the Collier Community Foundation in support of our initiative, The Art Equity Project. Part of these funds underwrote our current exhibition, The Artist's Hand, as it gives rise to artists whose works were considered, at one time, to be outside of the sanctioned art world, and therefore promotes an opportunity for diverse artistic voices.
This research project centers on measuring the impact of the exhibition, specifically on the viewer's experience. It looks at the viewer's knowledge of this genre of artists, and how that knowledge shapes their thinking, appreciation for, and commitment to embracing a broader community.

---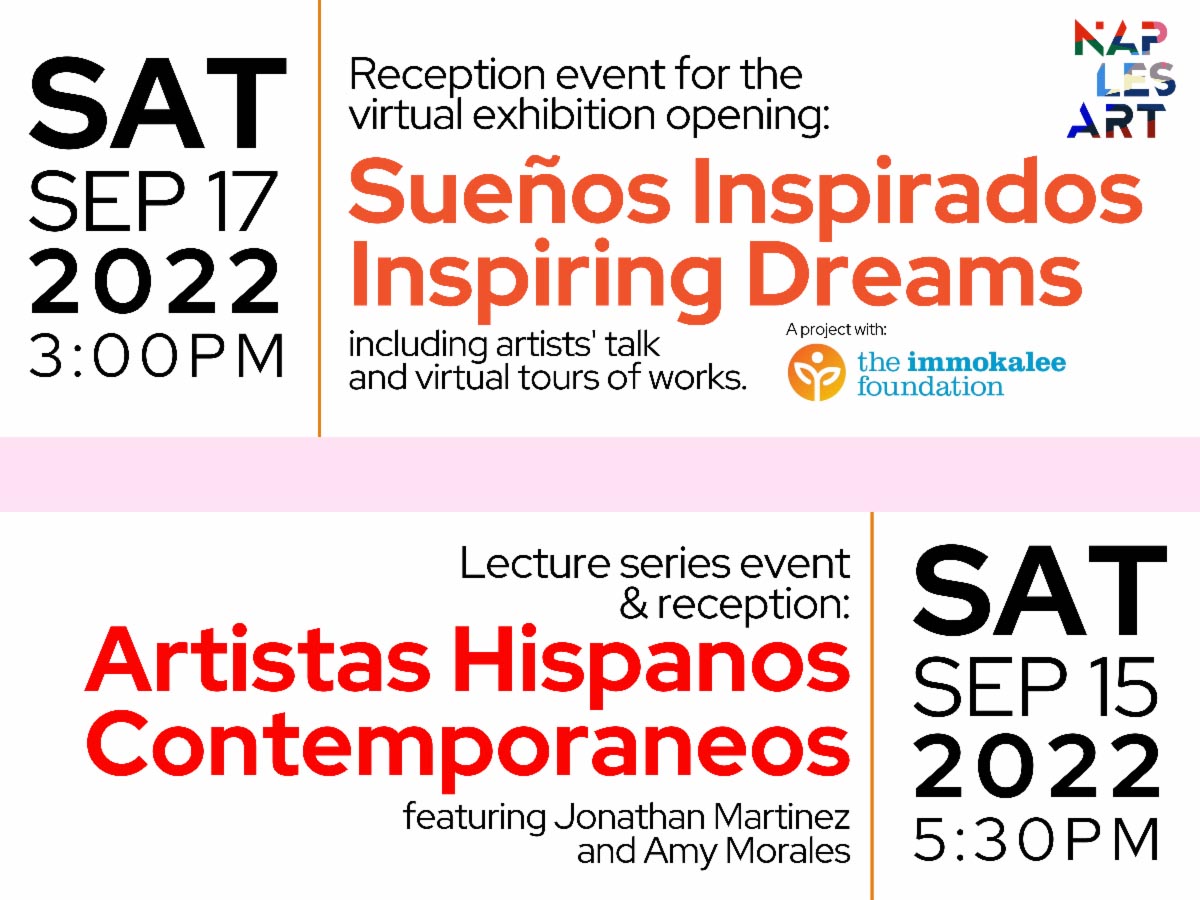 ¡ARTEVIVA!: Hispanic Heritage Celebration
We are proud to announce Naples Art's participation in ¡ARTEVIVA!, a festival honoring our collective Hispanic culture. As a recipient of a charitable grant through The Tourism Development Council, we will support a full line-up of art classes, workshops, lectures, and exhibitions beginning this month, as National Hispanic Heritage Month begins.
September Events:
Artistas Hispanos Contemporaneos is an artist lecture series serving as a platform for artists and their contemporaries to gather, share ideas, and advance their artistic practices. Each quarterly lecture will feature two artists who will present selections from their work and talk about their artistic journey.
Join us on September 15th, 2022 from 5:30PM to 8:30PM for a reception and lecture by local artists Jonathan Martinez and Amy Morales.
Sueños Inspirados: Inspiring Dreams, a project in collaboration with The Immokalee Foundation, is a virtual art exhibition showcasing the talent of several hidden artists within our community. This project is a representation of Naples Art's commitment to being inclusive and celebrating the Hispanic culture that is an influential part of our community.
Join us on September 17th, 2022 from 3:00PM to 6:00PM for an opening reception where you can meet our brilliant youth who are proudly embracing and displaying their Latinidad!
¡ARTEVIVA! Schedule:
Artistas Hispanos Contemporaneos: Lecture & Reception (Sept. 15, 2022)
Sueños Inspiradores: Virtual Exhibition & Reception (Sept. 17, 2022)
Dia de los Muertos: Workshop & Reception (Nov. 1, 2022)
Artistas Hispanos Contemporáneos: Lecture & Reception (Nov. 10, 2022)
Dia de los Reyes: Workshop, Reception & Course (Jan. 5 – 6, 2023)
Miradas de Mujeres: Isabelle de Borchgrave Exhibition (Mar. 1, 2023)
Miradas de Mujeres: Perspectives of Women in the Arts, Reception & Conference (Mar. 14 – 15, 2023)
Artistas Hispanos Contemporaneos: Lecture & Reception (May 5, 2023)
RSVP at Info@NaplesArt.org
$15 visitors / $10 members
---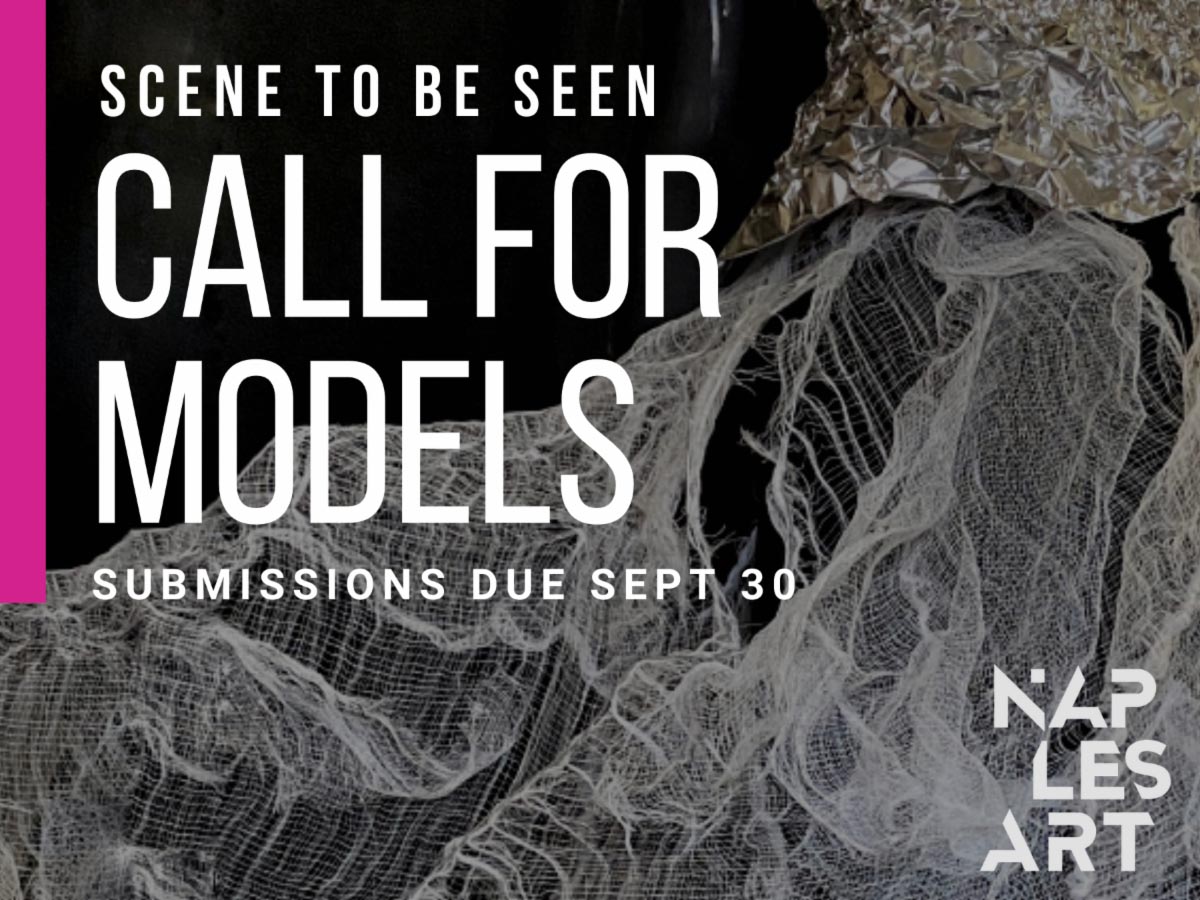 CALL FOR MODELS: Scene To Be Seen Runway Art Show
Naples Art is seeking models to be featured in the 6th Annual Scene To Be Scene Runway Art Show taking place on Saturday, January 14, 2023.
Scene To Be Seen is Naples Art's signature annual gala and runway show featuring unique creations that boldly embody the concept of "wearable art." Always imaginative, the designs are carefully selected each year for their originality, artistry, and complexity of workmanship.
Launched in 2017 as a way to engage and showcase area artists and designers, Scene to be Seen provides critical funding for Naples Art's mission to enlighten, engage, educate, and enrich the community, building on our history and position of leadership as a hub of visual contemporary art with a local and global footprint.
If you or someone you know is an aspiring model wishing to gain experience, please consider applying!
The deadline for model submissions is September 30, 2022.
---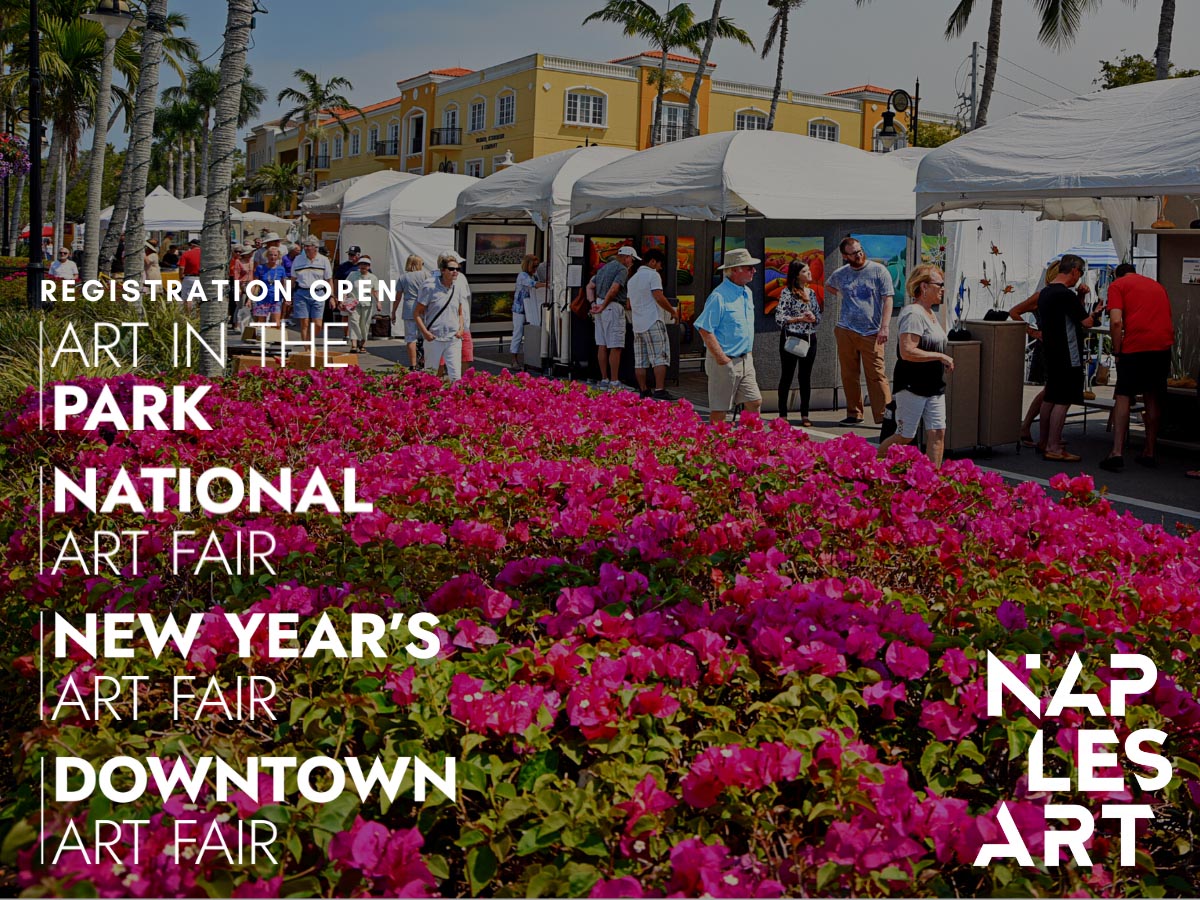 CALL FOR ARTISTS: Artist Registration for Outdoor Art Fairs!
Naples Art has opened registration for the 2022/2023 season of our world-class Outdoor Art Fairs featuring original works by local, national, and international artists!
Our annual Outdoor Art Fairs are held along prestigious Fifth Avenue South in the heart of downtown Naples as well as near scenic Cambier Park, one block from the premier shopping and dining district. These juried art fairs are considered premier caliber outdoor shows – ranked by Sunshine Artist Magazine as among the Top 10 Best Fine Art Shows in the U.S. and also named to the Art Fair Source Book's Blue Chip 100 Fine Art Events – thanks to the high quality art, engaging artists, and festive atmosphere.
Learn more and register for the Outdoor Art Fairs below: