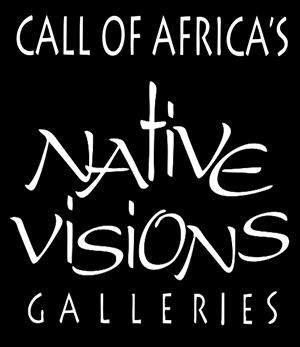 Ross Parker
Owner Call of Africa's Native Vision Galleries
Growing up in Africa, Ross Parker developed his love of the environment, wildlife and art. He has combined those passions to create what many experts believe to be the finest nature and environmental art gallery business in the nation.
Call of Africa's Native Vision Galleries has its corporate headquarters and 15,000-square-foot warehouse in Fort Lauderdale, Florida and retail galleries at Harbourside waterfront shops in Jupiter and on 5th Avenue in Naples.
Anyone browsing the galleries will be treated to an amazing display of our environment and creatures of the wild in truly lifelike oils, acrylics, pastels and watercolors. Sculptures in the gallery are made of bronze, glass, wood and stone.
In its three decades, Call of Africa's Native Visions Galleries has built an international reputation for taking our emerging artists and taking them to international acclaim. Parker travels the world looking for the most talented artists specializing in environmental and nature subjects such as wildlife, birdlife, landscape, seascape, marine life, florals and still life. He currently has more than 20 artists creating paintings, sculptures and other artworks for sale in his galleries and at the shows he participates in worldwide. Many of these artists have been featured in prominent art magazines and have graced the covers of major auction house catalogs including Sothebys and Christies.
Lately he has been adding a lot more Florida art. "I spend a lot of time in the Everglades," he says. "It's America's last frontier and has some of the most impressive places anywhere in the world. The bird and plant life are incredible. I bring some of my artists out there and they're amazed at the beauty."
Native Visions Galleries is committed to the preservation of our environment and has worked tirelessly with many charitable organizations over the past 30 years. In fact, every gallery show and exhibition has raised money for charitable foundations including the Shy Wolf Foundation, The Jane Goodall Foundation, The Sheldrik Foundation's elephant orphanage and William Holden Wildlife Foundation, just to name a few. It is our hope that through our tireless fundraising we can in some way make a difference in preserving the vast wildlife and natural beauty of our planet for future generations to enjoy.