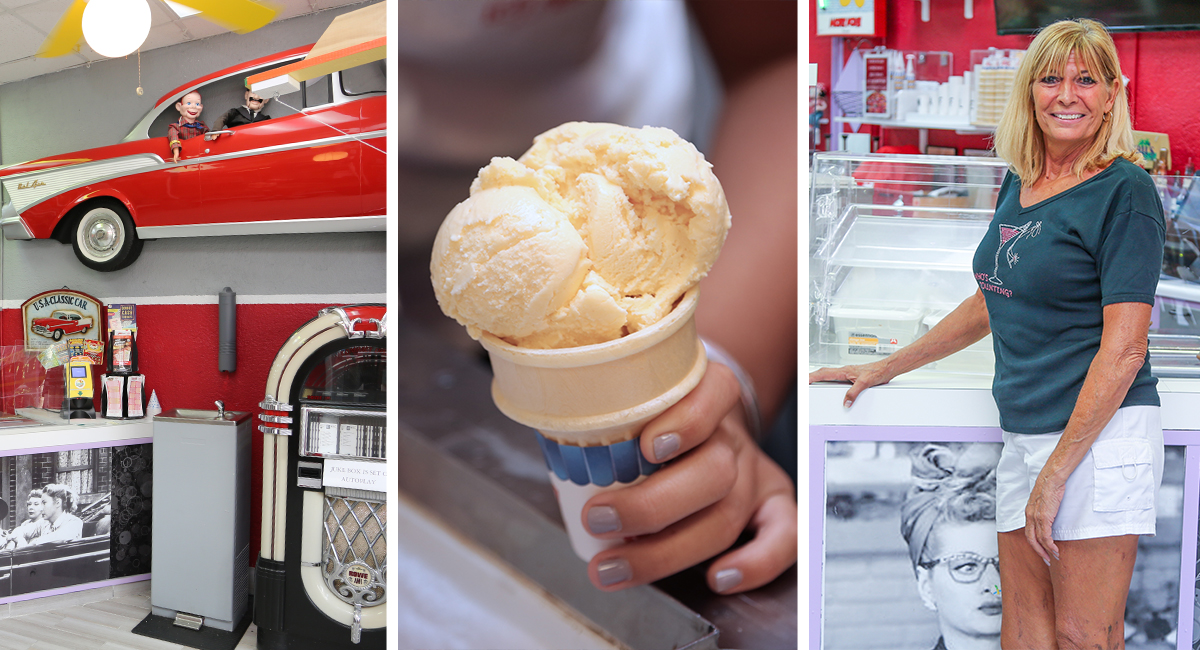 Regina's Ice Cream Pavilion
Newly-wed bankers and transplants from New York, Regina and Salvatore Tenaglia drove down Fifth Avenue South in 1988 with one thing in mind—is there a need for a business here that would survive? Fifth Avenue South only had a few stores at the time and was on the downslide.

Regina looked at Sal and said, "What about ice cream, everyone loves ice cream, and it's so close to the beach?" That was it for the entrepreneurs, who, according to Regina, decided to name the shop after her because "Sal's sounded like a pizza parlor."

Regina's dad came down from Wisconsin to build and run it for the first year, along with the help of Sal's mom. "It was truly a family affair," says Regina. Eventually, both Sal and Regina quit banking and worked at the shop full time. "We literally learned as we went along," says Regina. Although she lost her beloved Sal five years ago, Regina is still engaged in the business, which is one of the most popular destinations on Fifth Avenue South. "I'm not scooping anymore," she says, "but I'm still hands on."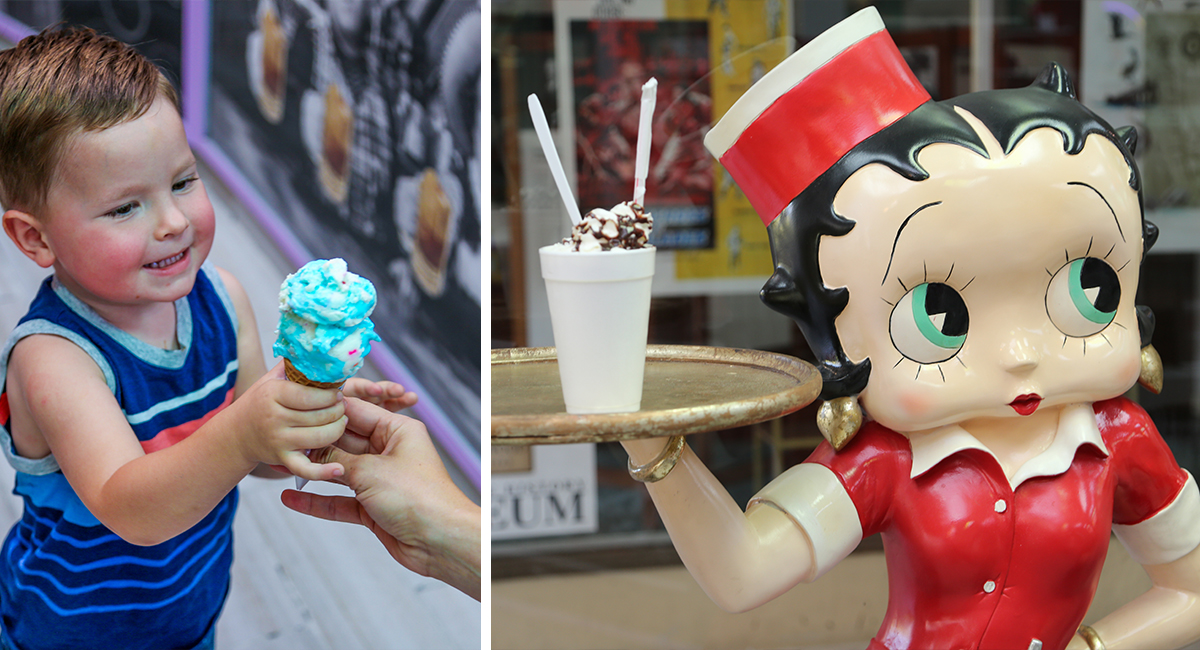 Decorated with 50's memorabilia Sal and Regina collected over the years, Regina's Ice Cream Pavilion features an antique jukebox along with art and photos of Elvis, the Honeymooners, Betty Boop, and Marilyn Monroe, among others. Regina says, "Most kids today are familiar with only one of the famous personalities: Dorothy from the Wizard of Oz."

When they first opened, the couple advertised 40 flavors and remarkably have the same number today. Regina says, "My personal favorite is chocolate peanut butter… I eat it all the time."

However, the most popular flavor and the secret to Regina's success is the shop's French vanilla. "If you have a great vanilla, everything else falls in line from cones to sundaes to shakes," she says with a laugh.

As for being on Fifth Avenue South, Regina is quick to say, "Sal was actually president of the Fifth Avenue Association for a while. We both loved Fifth Avenue South, and today, hurricane and all, I still wouldn't want to be anywhere else."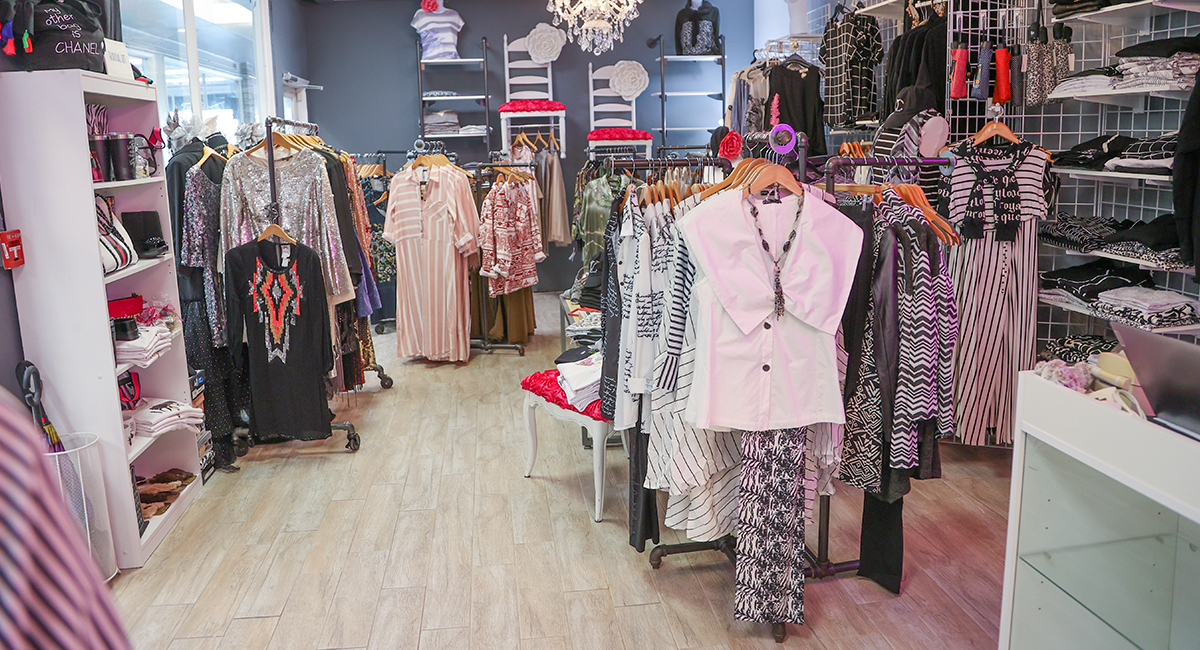 Petunias of Naples
Claudette Willis has loved fashion her whole life. Named "Best Dressed" in high school, Claudette's first job was as a cashier at Lerners Clothing. She quickly moved up the ranks and became a "road person," as she calls it, where she helped open stores across the country. Always with the idea of owning her own store in mind, she then moved to Kids Are Us, where she was store manager for a 25,000 sq. ft. operation.

Yet, there remained one skill she needed to perfect and that was as a buyer. She saw an ad for a store manager at a Florida-based boutique. She applied, got the job, and moved to Naples. She spent four years there getting the buying experience she needed for a boutique of her own.

Claudette opened Petunias on Fifth Avenue South in 1997. She speaks lovingly of the name, "I wanted the back wall to be pink and the shop named after a flower and since petunias come in pink, Petunias of Naples was born."

She had a lot of help early on from her husband Moony Mann, a local musician, and Claudette says, "He was a Godsend during the rebuilding after the flood."

Since opening its doors, Petunias has truly blossomed. "We've gone from mostly beachwear to an eclectic mix of fashion for all ages, all body types and all price ranges," she notes. "We literally have something for everybody. Plus, we don't work on commission, so if it's not right, we help you find something that is."

Claudette loves being on Fifth Avenue South because so many other business owners are like family. "We all work together; we send customers to each other if we don't have what they are looking for or if we're in a different type of business. Regina refers customers to me, and Matt at Oliver's Barber Shop sends his customers my way to help them with gifts for their wives or girlfriends," says Claudette, "and Aqua hosts our fashion shows."

As part of the January 12 grand reopening, Petunias will be featuring a fashion show at Aqua's. For more information, call 813-579-8890.
Oliver's Barber Shop
One of the oldest Mom and Pop shops on Fifth Avenue South is Oliver's Barber Shop, which has been in business there for more than 50 years. Oliver Cross and his wife Nancy bought the barber shop in 1972, but it actually was founded in 1951 by original owner Jack Kelly. Oliver's is still in the family today, as son Matt Cross, who literally grew up with the smell of shaving cream, talc, and hot towels, became the shop's owner and operator in 2009.

Matt, who followed in his dad's footsteps, got his barber's license at Sunstate Academy of Hair Design in Fort Myers. But instead of staying in Naples, Matt headed to New York City, where he worked as a server and also opened his own barber shop. Just as his business was taking off, his dad Oliver had some health issues, and Matt came back to take over the shop on Fifth Avenue South.

Matt recalls fondly how Fifth Avenue South was just a couple of stores when he was growing up. "The only way you could tell it was a city back then was that the phone company was across the street, with a row of phone booths in front of it, and we actually had a bookstore called the "Book Nook." Haircuts were five bucks," Matt said with a grin.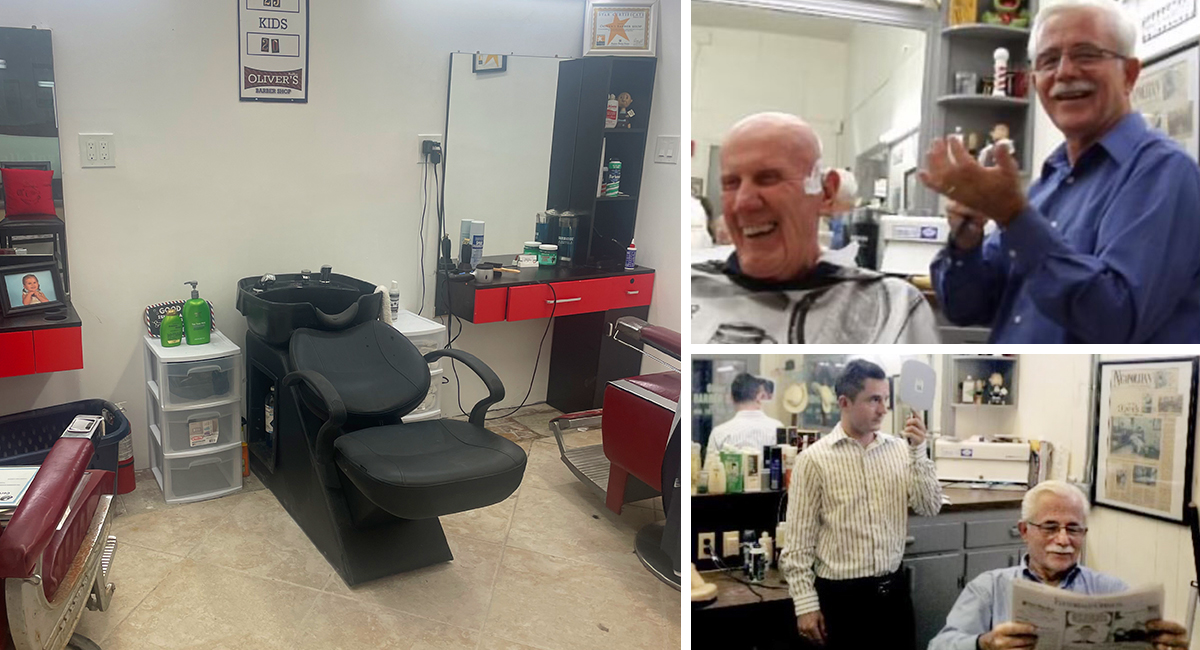 "Naples High School football was all the rage, and my dad's barber shop was always the gathering spot afterwards where the locals would spend hours talking about the games."

Matt says Naples has changed so much since then, but "it's still the greatest place to be and just seems like home."

Matt's customers are like Regina's and Claudette's…multi-generational. His customers range in age from two-years-old to 101. Sometimes in season Matt sees as many as 30 customers in one day.

It looks like barbering may be in the Cross DNA. Matt is a single dad of a darling three-year-old named Ivy. "She's my little rock star," says Matt, "and comes to work with me every Saturday." Who knows, maybe Ivy will one day own Oliver's and make it a multi-generational small business!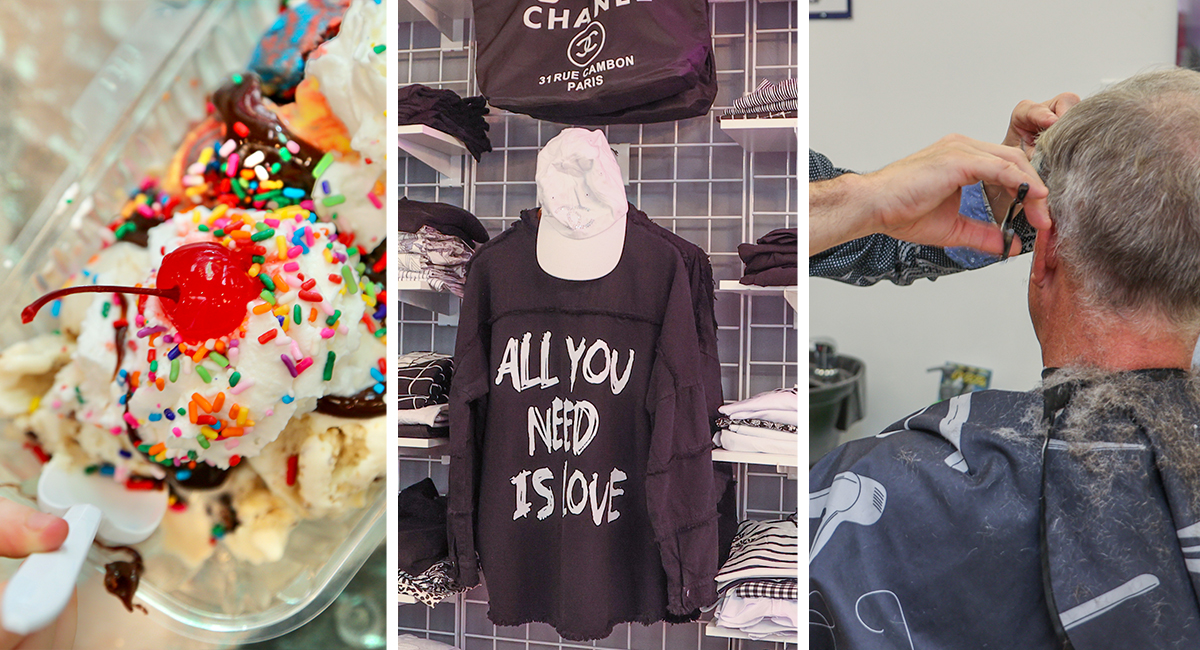 Come to Evening on Fifth on January 12 to meet these three small business owners and see their shops, or better yet drop in anytime for a haircut at Oliver's, buy a gift at Petunias and top it off with a chocolate peanut butter sundae at Regina's.
Learn More