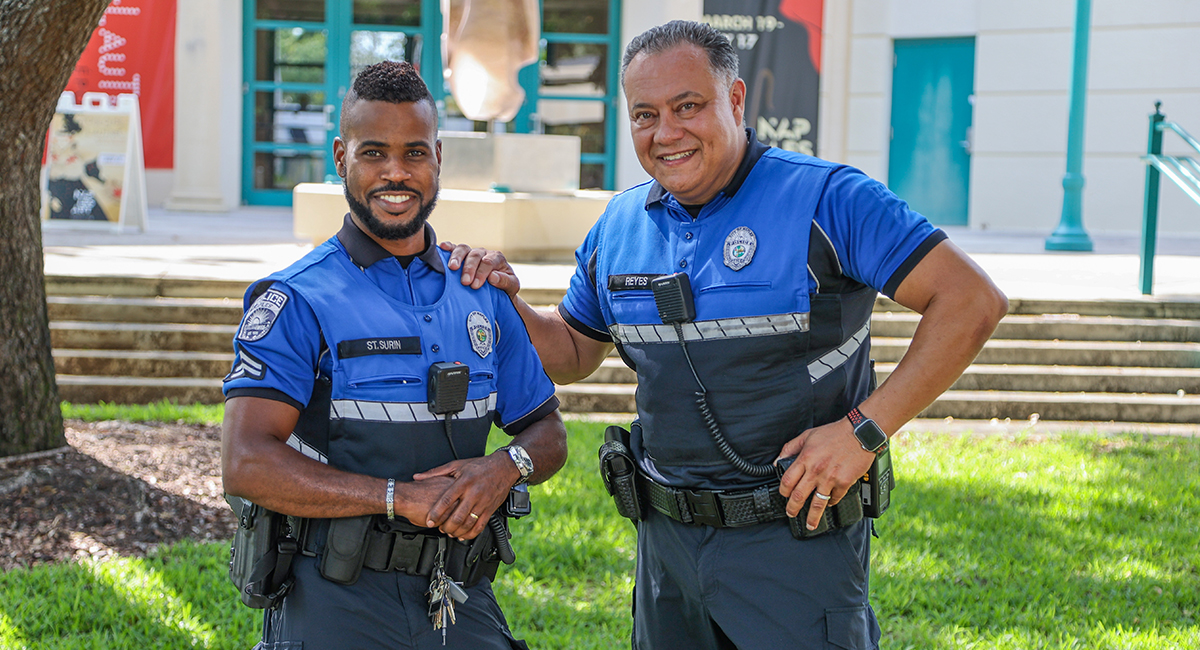 Leading that effort are two of Naples finest TIF (Tax Incremental Fund, supported by Fifth Avenue South businesses) police officers who patrol Fifth Avenue South with a watchful eye and a proactive approach to any potential threats. They are our dynamic duo of Master Officer Wadler St. Surin and Officer Reynaldo (Rey) Reyes who patrol every corner of Fifth Avenue South on their bikes every day of the year. From the crosswalks to the sidewalks to the parking garages to the alleys of Fifth Avenue South, they are vigilant and relentless in their commitment to public service and safety.

Master Officer St. Surin has served as a TIF officer for approximately five years. He grew up in Naples and after graduating from Hodges University with an associate degree in criminal justice, he joined the Department of Juvenile Justice in Collier County. He has also served as a deputy sheriff for Collier County and a police officer for the Seminole Tribal Police. Master Officer St. Surin joined the Naples Police Department in 2012 and was assigned to Fifth Avenue South in 2017.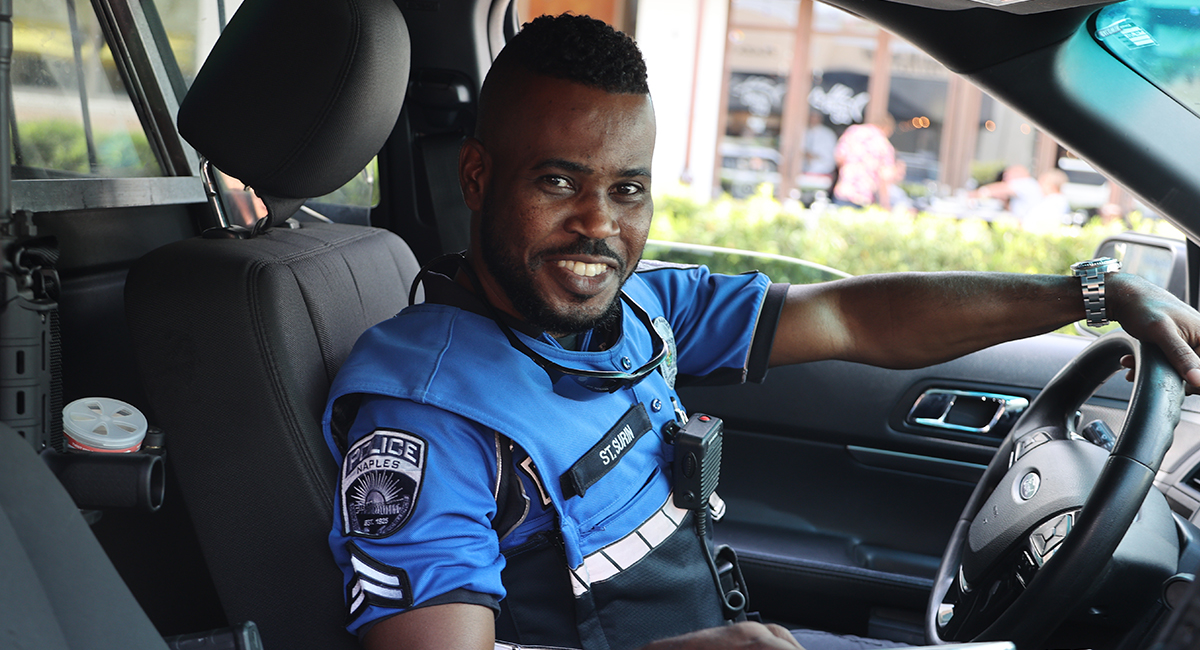 "We can never be too safe, so we see our job as proactive. We check the parking garages, and if we see an open car door someone has forgotten to close, we close it. We check the front and back doors of businesses and visit the three banks and speak with the managers to ask about any suspicious activity," says Master Officer St. Surin.

"Our job is mainly to provide security for the businesses, restaurants, and residences on Fifth Avenue South. Officer Reyes and I are the first responders. It is like having your own security force. The businesses have our phone numbers and know to call us directly."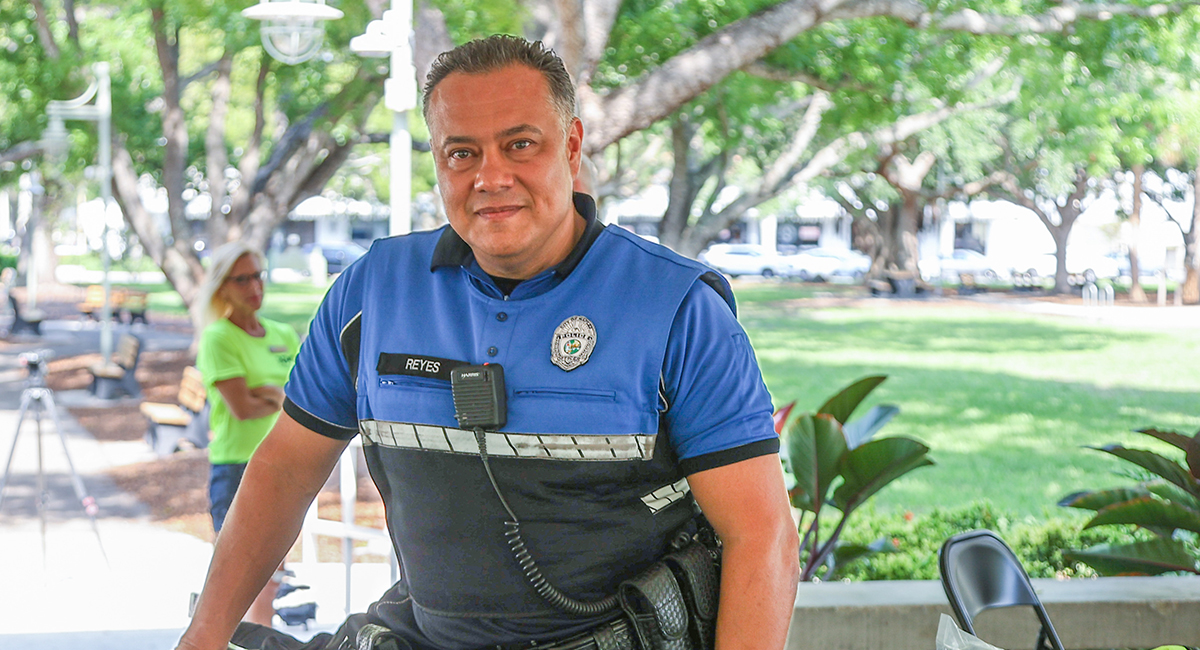 Officer Reyes has been on the TIF beat for more than a year now. He joined the Naples Police Department in 2018, after serving as a New York City police officer for 20 years, including time as a 911 first responder. He is also a Gulf War veteran and served for eight years in the Air Force Security Forces.

"I see our jobs as being in the business of serving the public," says Officer Reyes. "We haven't seen an increase in crime like you've seen in many other cities. People care about this community and maintain high values. You would be surprised how many people turn in lost items to us. Our role is to respond as quickly as possible to the needs of the businesses or the visitors on Fifth Avenue South, whether it's a lost wallet or passport, a medical emergency, retail theft, or someone skipping out on a bill."

"We are concerned about safe passage of employees, especially after work, as well as the safety of pedestrians on our crosswalks. When I worked in the Bronx, it was an active crime area, but here in Naples we are about pro-active policing and solving quality of life issues."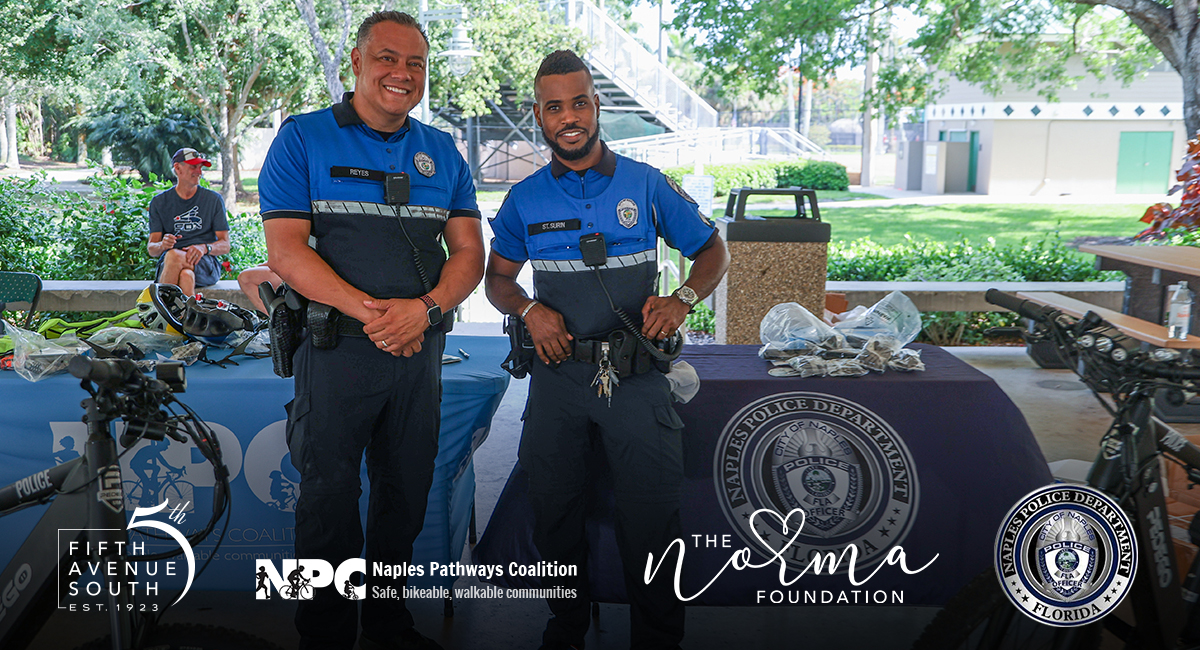 A recent example of problem-solving was when Officer Reyes noticed that employees on Fifth Avenue South were riding their bikes to their homes late at night with dark clothing on and no safety equipment other than a cell phone as a headlight. Officer Reyes stepped in to make sure the workers had a safe commute home and created a bike safety initiative with the support of the Naples Police Department, the Naples Pathways Coalition, and The Norma Foundation. The Fifth Avenue South Business Improvement District (BID) facilitated the event in terms of employee participation and promotion, as a part of its ongoing philanthropic support for various causes. Most recently, the BID has supported the work of the Alzheimer's Association and the David Lawrence Center.

The program was launched on May 26 and Officer Reyes and Master Officer St. Surin, as well as other police officers, were on hand at Cambier Park to speak about bike safety to some 30 Fifth Avenue South workers. They helped install lights on employees' bikes and provided them with reflective safety vests/belts, safety information and bicycle locks. The equipment was provided to the at-risk cyclists by the Naples Pathways Coalition, a local nonprofit that works to create safe, bikeable, walkable communities in Collier County. Initial funding for the project was provided by The Norma Foundation, thanks to Naples' residents Scott Conery and Annette Hruby.

"Making sure these employees have safe and secure transportation is a high priority, and we see it as part of our jobs," says Officer Reyes.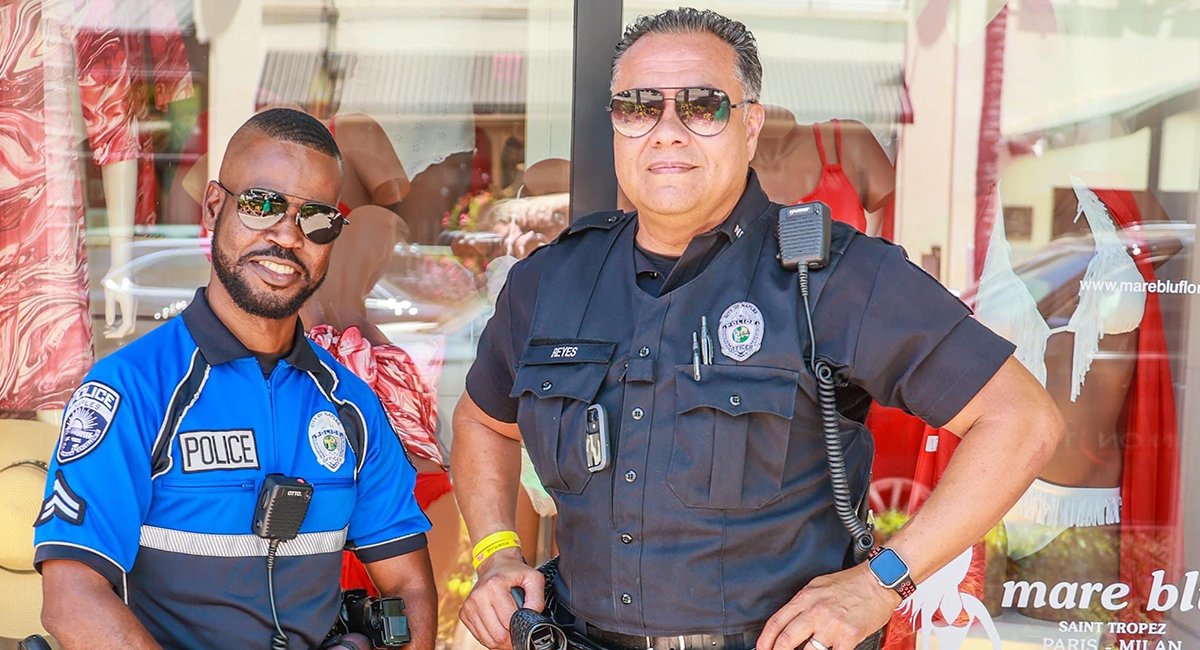 Both officers have families. Master Officer St. Surin and his wife Mariana have three kids. Two are attending college, a son at Hodges University who wants to be an attorney, a daughter at Florida Gulf Coast University (FGCU) who is studying to be a nurse, and a high school sophomore, who will automatically have her associate degree when she graduates.

Officer Reyes and his wife Myrna also have three children. Their oldest son is attending FGCU and studying business and finance. Their daughter is at Gulf Coast High School and another son, who is on the track team, attends Oakridge Middle School.

Officer Reyes' daughter Bryana developed a very rare form of bone cancer, called osteosarcoma, of the right femur three years ago. As a result, he and his daughter have been very active in the Sunshine Kids, a national nonprofit which provides positive group activities and emotional support for young cancer patients. Proud papa Reyes says, "Today, Bryana, cancer free for three years, is a SpokesKid for the organization."

The BID, along with our 220 businesses, salute Master Officer St. Surin and Officer Reyes for all they do, every day on Fifth Avenue South and in our community to assure our safety and security. They are both a tribute to the Naples Police Department and to their profession.