Emily James
While there are nine distinguished art galleries on Fifth Avenue South, there is only one unofficial artist-in-residence—the extraordinarily talented Emily James. She and her work are not just treasured in Naples but nationally and internationally as well.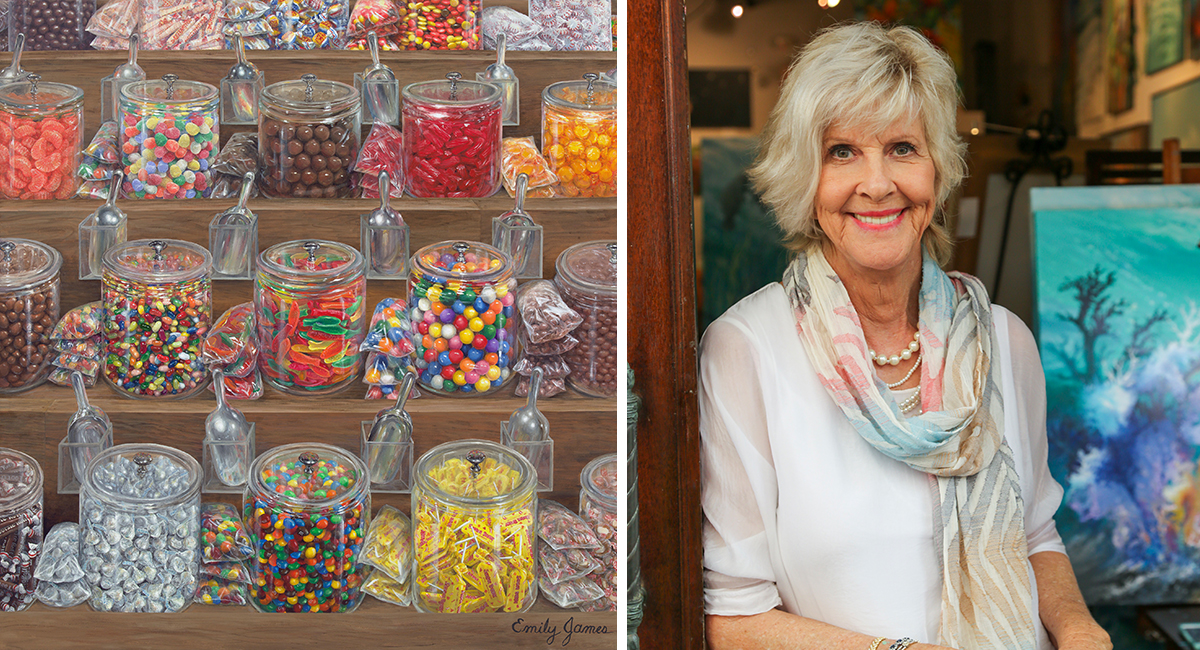 Tucked away in the courtyard just across from Vergina restaurant you will find Emily most days delicately dabbing and stroking paint on a canvas, as she creates a one-of-a-kind commissioned masterpiece. Voted best gallery in Naples for the last five years, the small hideaway is lined with a variety of works as lovely and uplifting as Emily herself. From landscapes to still life to abstracts to whimsical works, like a painting with shelves lined with jars of candy that Emily cleverly calls "Goody, Goody Gumdrops," there is truly something for everyone.

While there are some creations that might make you think of the water lilies of Monet, the flowers of O'Keeffe or the Tahiti jungle colors of Gauguin, it is only fleeting as you realize everything here is a special creation of Emily's.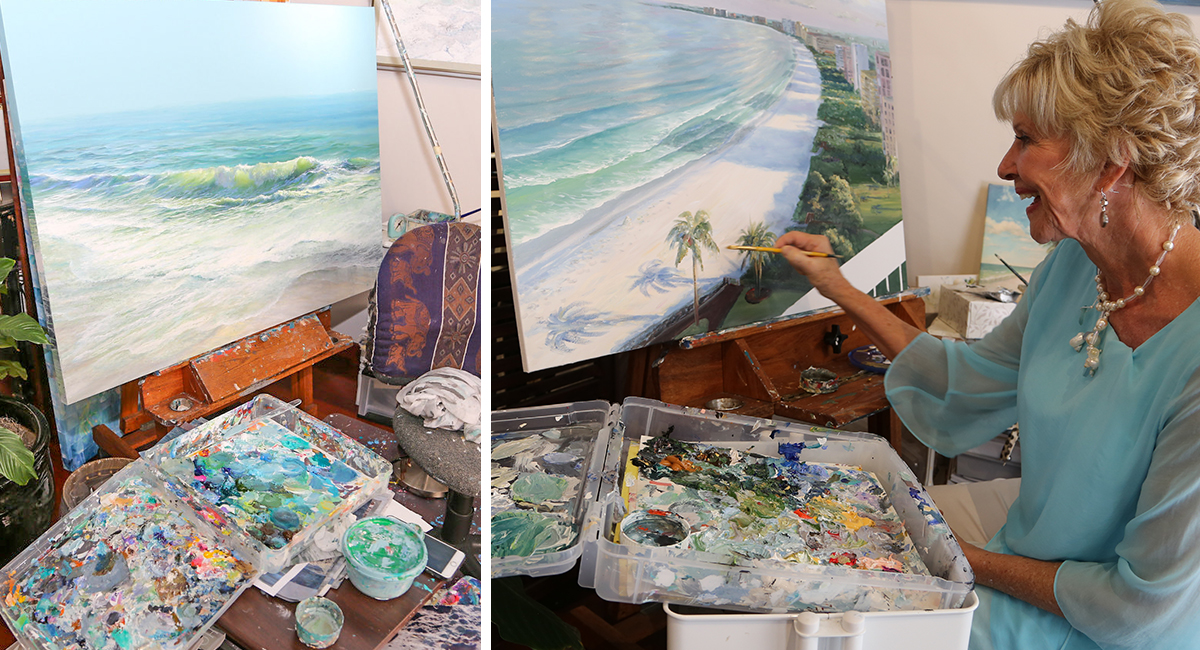 A current commission piece underway is a triptych, or three separate canvases that hang side by side to create one large work of art. Commissioned by a local Naples couple, the painting is a massive swirl of a blue, green and white Gulf of Mexico with baby turtle hatchlings entering the water for the first time. Emily captures them in their glorious launch into the world as they begin to leave the shore, enter the water and then fragilely bounce on the waves that propel them on their way. Emily's impish side is even on display in the painting. On two of the baby turtles' shells, she has carved the first names of the couple who ordered the painting. So delicately done, stepping back just a few feet from the painting, one would have no idea that two of the turtles pictured have identifying marks that will no doubt make the painting even more of a conversation piece.

"I'm thrilled with the success of our gallery," says Emily. "I love working with our clients, and then I really enjoy seeing where my "children" are going to live. We help our clients decide where to locate the paintings and assist with hanging and lighting too. Most of our business is word-of-mouth where happy clients tell their friends about us." In addition to individual collectors, Emily boasts many corporate and nonprofit collectors around the world, including luxury hotels, country clubs and universities, among others.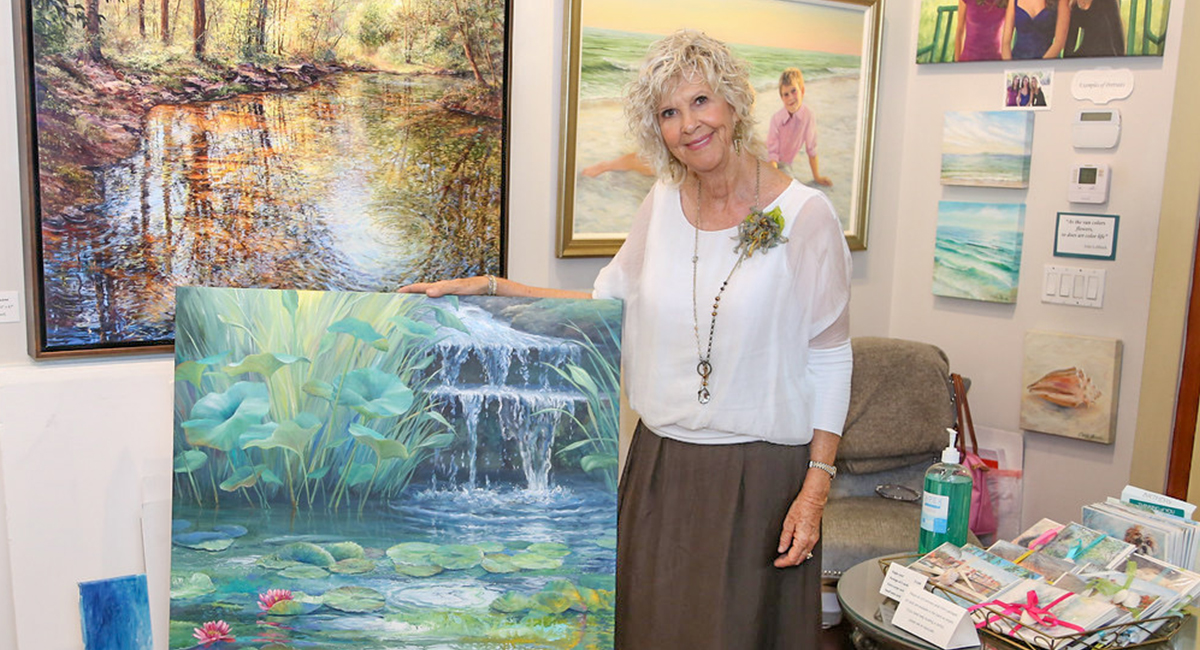 Emily says she was born painting and was called a child prodigy by many. She humbly says of herself, "I didn't decide to become an artist. I was born an artist. It was a marvelous gift I was given." She completed her first painting at nine-years-old and called it "Sister's Dolls." Her talent was already evident then and well beyond her age. Since then, Emily has painted thousands of paintings and sold everything she has ever painted, with the exception of "Sister's Dolls" that can be viewed at the gallery, a remarkable feat in and of itself.

Over the years, Emily has won innumerable awards, including her selection as the official artist of the Masters Golf Tournament. She has received a number of Best-In-Show awards, and one of her one-woman shows sold out prior to officially opening. She is the only artist in the U.S. to be selected by the top three fine art publishers, with two of her images being in the top 50 selling prints worldwide. Many of her pieces have been exhibited in Atlanta's High Museum and featured in the book, The Best of Watercolor.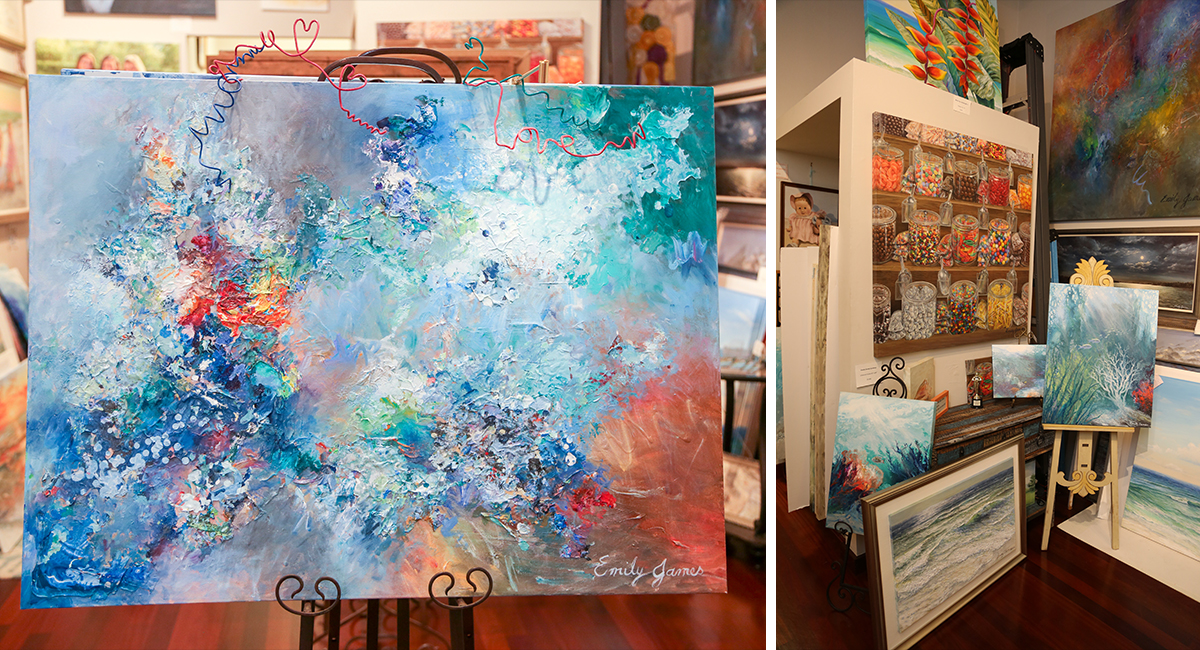 Emily has also been named an Outstanding American Woman in the Arts. She also served on the advisory board of her alma mater, Florida State University (FSU), where she studied art. The FSU Dean has said that Emily is a "visual artist who continues to create art with passion and dedication, bringing joy and beauty to the world."

A lifelong Floridian, Emily was born in Pensacola. She met her husband, John, at FSU, and they have lived in the Naples area for 25 years. They have two children and recently took a pre-COVID-19 planned trip with their three grandchildren and new grand son-in-law to Greece and Italy. It will be interesting to see on canvas what visions and memories will come from the trip, as Emily's philosophy is "with a joyous heart and hand, I lovingly express what I see."

The Emily James Gallery is in its eighth year and located at 720 Fifth Avenue South, Suite 111. Emily says, "I mainly wanted a place to put up my paintings. I have been featured in other galleries, but I wanted my very own. My hope is to one day use this space as my studio and have a much larger gallery…if it's meant to be, it will happen."