A Little Taste of Turkey
and More in Naples
While Turkey is known for spanning two continents, our little part of the world is lucky enough to have two of the country's young entrepreneurs recently join the Fifth Avenue South Family.

Mehmet Beller and Nazmi Even opened Café Marquise at 520 Park Street in July of this year and have been enjoying a magic carpet ride of kudos ever since. No wonder. While you'll find some Turkish delights, like Turkish coffee, Baklava and Kadaif (noodles covered in butter, pistachio, and lemon sugar syrup), at Café Marquise, which means diamond or wife, the menu literally spans the globe when it comes to delectable specialties.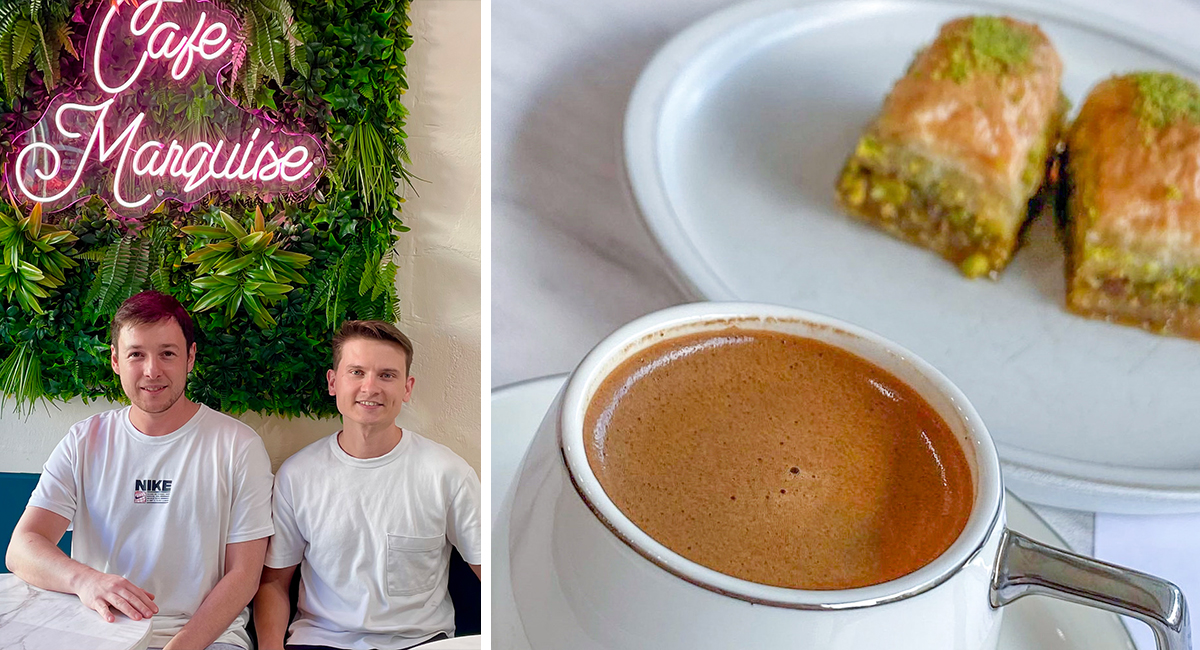 From mouth-watering creative crepes with fillings like peanut butter and banana, to traditional New Orleans Beignets to scrumptious bagel sandwiches, described by Mehmet as a "bagel (sandwich) served like a burger," Café Marquise has already become a prominent breakfast, lunch and dessert destination for locals and tourists looking for something exotic. The menu also includes a variety of smoothies, frappes, lattes, and paninis. The café also does catering.

Mehmet and his girlfriend Setenay, now wife, came to the U.S. four years ago and like everyone else got stuck in the black hole of COVID-19. They stayed and Mehmet applied for a business visa, after visiting a friend of his father's in Fort Myers. So, following in the footsteps of his dad, who owned several cafés and tea places in Turkey, Mehmet, along with his cousin Nazmi, opened Café Flore in Fort Myers. Within no time, the café shot to the top of the charts and was named one of the top 100 restaurants in Florida in 2022 and 2023 by Yelp. Ranked at #23, Café Flore is the only Florida restaurant to be named to the list two years in a row. The distinction is based on the platform's user reviews, with the vast majority ranking Café Flore at five stars.

Café Flore has been so popular that the Fort Myers Press did a feature on the café and NBC2 a live newscast.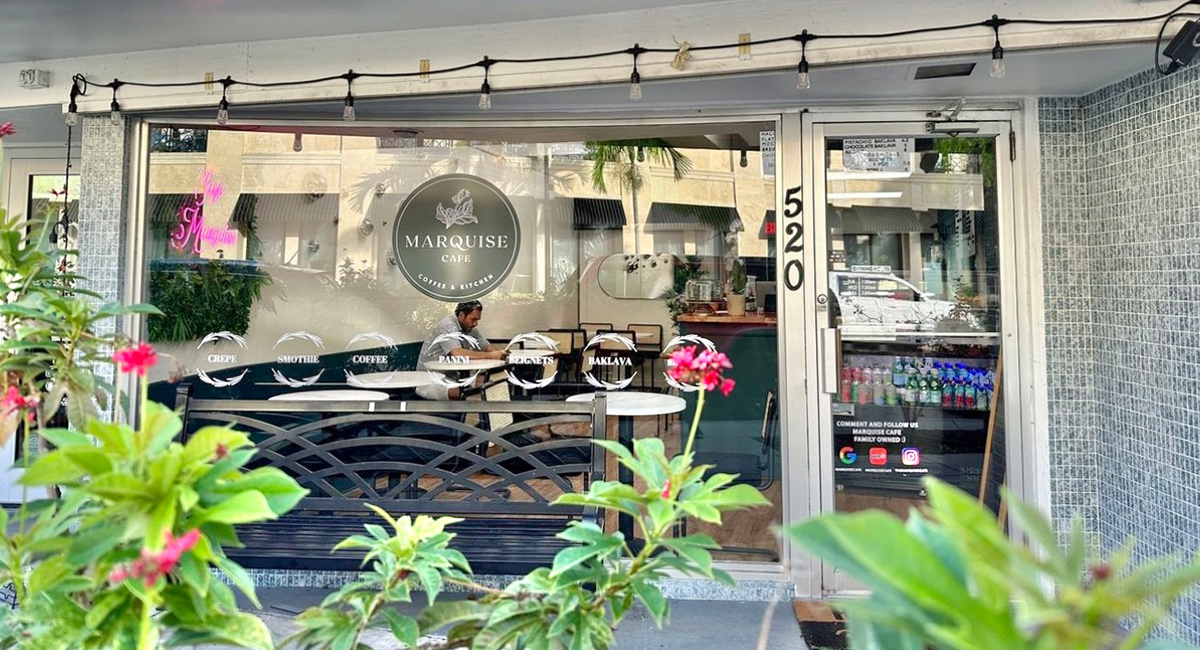 With Mehmet growing up in the restaurant business in Turkey and Nazmi, having already lived in the U.S. for six years, the two cousins were well-equipped to open a start-up. In fact, Cousin Nazmi had just moved to Naples and was working as a server when Mehmet reached out to him and said, "Why should we be working for other people, let's open our own business. It's America." Another cousin Burak Bulgan, co-owner of Stone and Mosaic Gardens, another successful Fifth Avenue South business, is also a partner in Café Marquise.

An engineer by training, Mehmet worked in an electronics factory in Turkey. It was there he met Setenay, who is a chemical engineer. The couple recently announced the arrival of their first child, a son named Atlas. As for Nazmi, he was quick to note that he is still single but looking!

With Mehmet at 31 years old and Nazmi at only 29, both young men say they are grateful to be in the United States. "There is just more freedom here, not just economical, but how you want to live, practice religion, or be entrepreneurial and live out your dream," says Nazmi. Mehmet echoed the same, "If you want to start a business, there is no politics and no one to stop you. It is great to be here."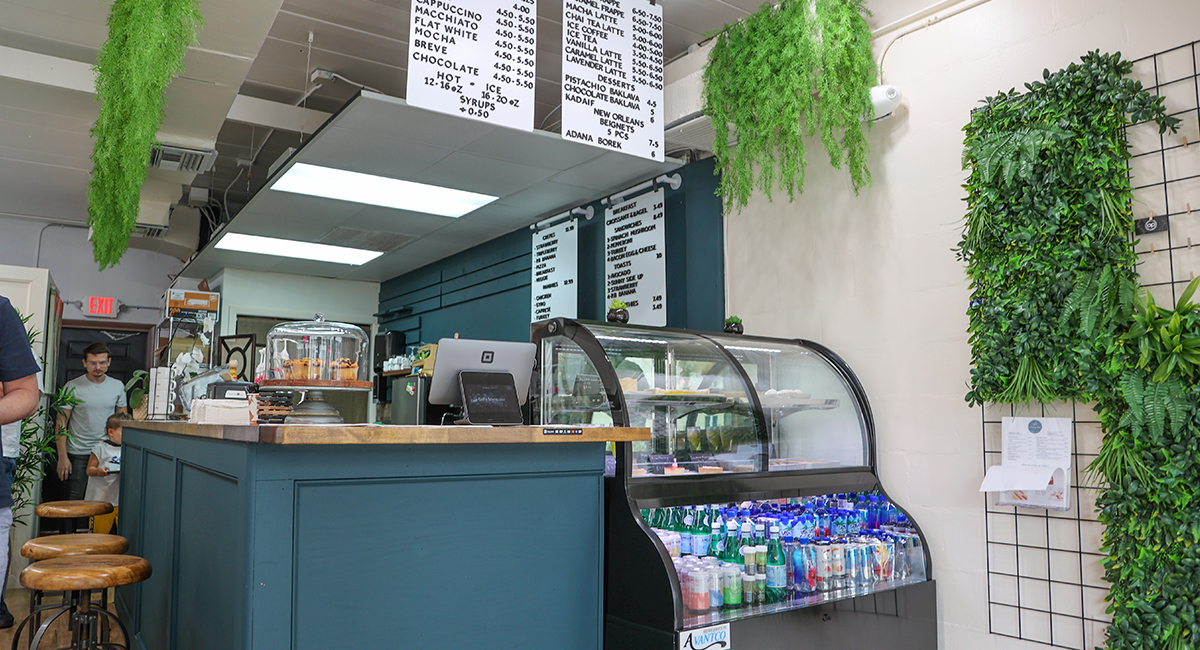 As for the future, the Turkish cousins say they want to focus on a brand of their own after assuring the success of their most recent start-up in Naples. "We want to create a café group of small Mediterranean coffee shops," said Mehmet with a proud smile.

I think they are well on their way to reaching their dream, and with the creative thinking, quality products, and hard work they've already displayed, as well as the recognition they've already received, I see, with my limited fortune-telling skills, a nationally-recognized brand in their "Kahve Falı" or Turkish coffee grounds.

To get a real flavor of Café Marquise, visit their website at https://www.cafemarquise.co/ and check out the menu. You can almost smell the coffee and taste the chocolate baklava.