From the Desk

of the Executive Director Bruce Barone, Jr.

It's Been Quite the Ride

Over the last five years, I have been blessed to serve as Executive Director of the Fifth Avenue South Business Improvement District (BID), working with an amazing group of 220 business leaders, entrepreneurs, and restaurateurs. This will be my last newsletter, as I prepare for the next step in my career.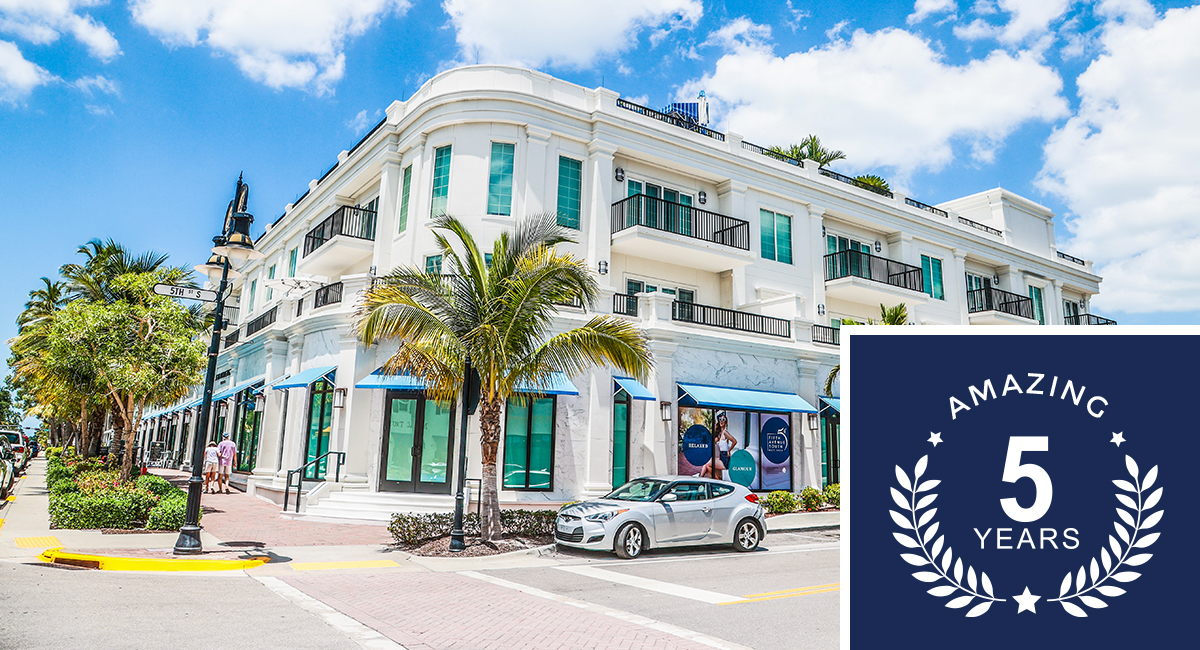 What an amazing five years this has been. Watching the evolution of the BID has been a joy and a true success story. Going from a fledgling merchant's association to a united group of COVID-19 challenged businesses struggling to hang on only to emerge as the #1 shopping destination in Collier County, the BID has had quite a ride. The contributions the BID's members have made to this community, their employees, and to the economy have been astounding and immeasurable.


Here are Just a Few Highlights:
Visual renaissance – Fifth Avenue South has always been beautiful, but the hanging baskets and new banners on streetlight poles have added a hint of charm and elegance to post-pandemic Fifth Avenue South. The banners signify a collective identity, one of unity, quality, and sophistication, as well as hail Fifth Avenue South as Naples' "Historic Main Street."





Culture change – Surviving and thriving through COVID-19 gave Fifth Avenue South business owners a new sense of family and brought everyone closer together. The pandemic was indeed a challenge, but we were #Unitedon5th, our rally cry for getting through it. Under that umbrella, we took a number of initiatives to make sure BID businesses and their employees not only survived, but carefully followed health guidelines, while continuing to serve local residents and help frontline workers by providing meals and other support. This period was a seminal moment in defining the BID members' commitment to the community and to each other.





Unparalleled marketing – The BID's marketing goal over the last five years has remained straight-forward: To keep the brand of Fifth Avenue South front and center, reinforcing Fifth Avenue South's reputation as one of the most exclusive addresses in the nation to visit, own real estate or open a business. Throughout the BID's advertising, media relations, events, and social media, we have highlighted Fifth Avenue South as the crown jewel of Naples.





Unparalleled events – Over the course of the last five years events on Fifth Avenue South have become the talk of the town. Ranging from the magnificent USA Wine & Food Experience with Martha Stewart to Cars on 5th. The monthly Evenings on 5th highlight some of the best musicians in Naples and bring guests from all over the country to dance the night away.




My favorite and the most spectacular event we enjoy is the two-day extravaganza of Christmas on 5th, showcasing the annual tree lighting, philharmonic concerts and a dozen or more of the finest restaurants in SW Florida serving their guests under the stars right on Fifth Avenue South. The special event also includes the first ever skating rink on Fifth Avenue South and a live nativity that leaves thousands in awe. Our most recent Christmas lighting honored the brave first responders that serve our great city and county. An experience that is a true honor for all.





Social media influencer – Because of its marketing efforts, the BID has gone from a social media rookie to a robust presence and major influencer status on multiple platforms. Indeed, the BID's social media presence continues to grow exponentially. In 2018, official followers on Instagram were only 1,674, while at the end of 2021, that number rose to close to 30,000. Likewise, in 2018, Facebook followers were approximately 1,800, but by the end of 2021 that number had grown to almost 12,000.





#1 shopping destination – Recognized by guests and visitors as the #1 shopping destination in Collier County, #5 in Florida and #134 nationwide, Fifth Avenue South became a major front runner by meeting, and often exceeding, the demands of residents and visitors who love to shop, dine and stroll on our beautiful, iconic downtown street.




If there is any question about the role Fifth Avenue South plays as an engine of economic growth for Naples, you only have to look at the numbers. Fifth Avenue South businesses had approximately 1.5M visitors in 2021, up by 200,000 since 2020, compared to Mercato at 1.1M and Waterside Shops at 818.8K. Visitors also spent more time on Fifth Avenue South with an average of 2.23 hours versus 1.72 hours for Mercato and 1.33 hours for Waterside Shops.





BID extended to 2030 – Lastly, a real testament to its successful track record, City Council voted unanimously to extend the BID's existence. The strong partnership that exists between the City of Naples and the BID will assure that the critical needs of Fifth Avenue South will continue to be communicated and met over the next decade.
When One Door Closes Another Opens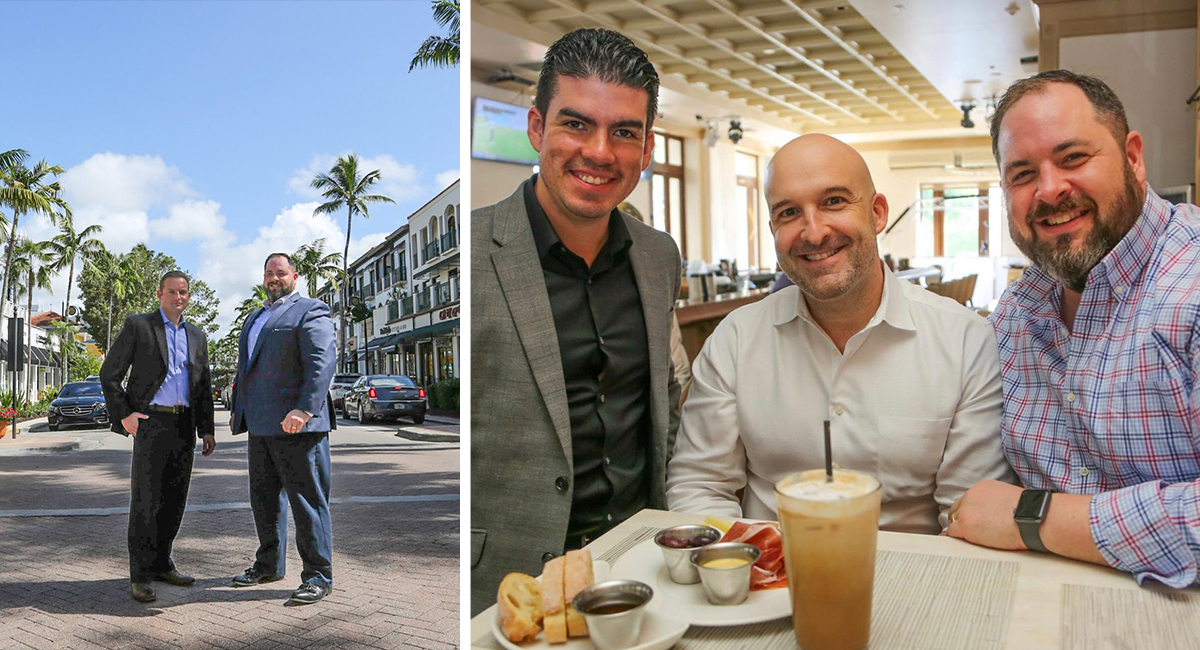 So, although I move on to the next chapter of my career, I am deeply honored to have had the opportunity to work with some of the City's best and brightest... business owners who care deeply, not just about their bottom line, but about their employees and this community. I wish everyone continued success, and I can only imagine what the future holds for our remarkable and magical crown jewel of Naples.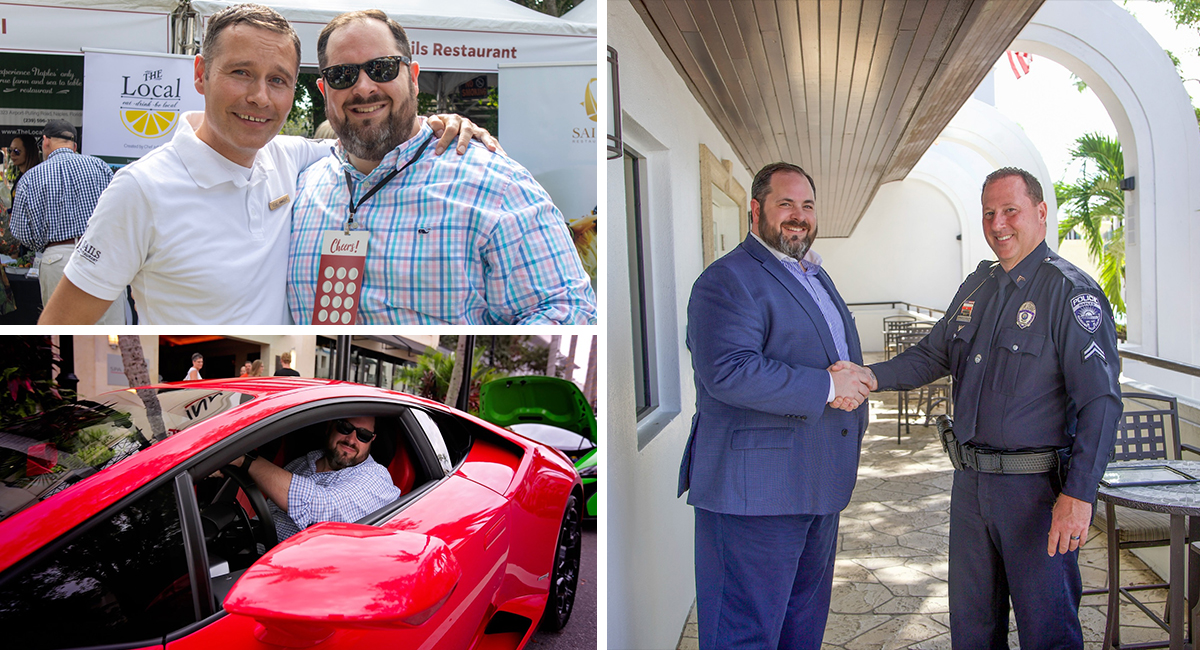 Bruce Barone, Jr.
Executive Director | 5th Avenue South Business Improvement District

Learn More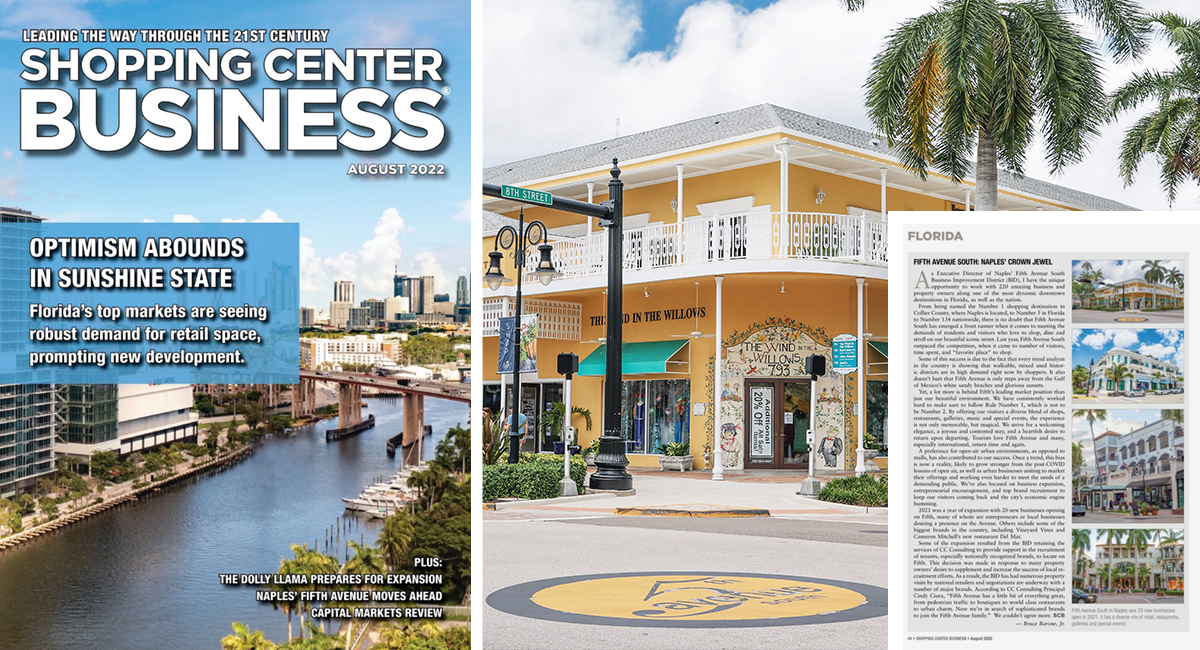 Fifth Avenue South: Naples' Crown Jewel
As Executive Director of Naples' Fifth Avenue South Business Improvement District (BID), I have the unique opportunity to work with 220 amazing business and property owners along one of the most dynamic downtown destinations in Florida, as well as the nation.
Read More

Arts, Culture & Entertainment





Join us here on Fifth Avenue for these upcoming events.

Blithe Spirit

September 28 to October 23

The Naples Players This magical smash comedy hit offers up a fussy, cantankerous, and spiritual skeptic in Charles Condomine. But Charles' spiritual skepticism vanishes when the ghost of his deceased first wife, Elvira, accidentally materializes-but only to him.

buy tickets

Violet Bell

October 7 | 7:00 p.m.

Norris Community Center at Cambier Park Violet Bell is re-wilding Americana music. Lizzy Ross's rich soprano intertwines with Omar Ruiz-Lopez's fiddle, guitar, banjo, and harmonies to create a lush and sinuous sound. Together they draw on a thread of untamable energy and natural magic passed down through generations of storytelling.

buy tickets





2022 Naples Fall Comedy Festival

October 8 | 7:00 p.m.

Norris Community Center at Cambier Park Twenty comedians from around Florida will perform their best 3-minute sets in this festival showcase with a special guest emcee Richy Leis from TMZ Live, MTV and The Howard Stern Show!

buy tickets

Evenings on Fifth

September 8 | 6:30 p.m. - 9:30 p.m.

An array of live musical performances up and down the sidewalks of Fifth Avenue South, plus dining, shopping, and more.

learn more
5th Avenue Business' Updates
Emillions Art




Dip your toes in shades of summertime blue. You don't have to take a vacation to beat the heat. Cool down with our seasonal selection of original paintings—all available for purchase at Emillions.

Swim with Salvati The contemporary canvases of award-winning realist painter Jim Salvati feel crisp and cool no matter the season.
Sail with Kerr Based in Florida, James P. Kerr paints dazzling tropical seascapes that are featured in dozens of prominent collections.
Snorkel with Sfara With each whimsical brushstroke, Mara Sfara brings colorful creatures to life—and to art exhibitions around the world.

Shop All Original Art

Paradise CoastLines




Collier County Tourism Industry News This past spring, the travel industry certainly cringed at the emergence of what appeared to be an endless parade of economic challenges that included skyrocketing inflation, record setting gas prices, interest rate hikes and the threat of an economic recession. After such a remarkable post-pandemic rebound it seemed more than certain that consumer travel sentiment was about to take a hit.

Learn More

Emillions Art




Artist Larry Aarons Drawing upon his NYC upbringing, a storied career in advertising, and a lifetime of creativity, Larry Aarons' approach to contemporary realism is intriguing and unique. Featuring Larry Aarons and a variety of artwork you won't find anywhere else, Emillions Art specializes in finding the right masterpiece to suit your home and lifestyle.

Learn More

Yabba Island Grill




Summer Savings Members of the Culinary Concepts Wine, Dine & Whiskey Club save 50% off appetizers, salads, and entrees at Yabba Island Grill.

For Membership Details, Click Here

Pazzo! Cucina Italiana




Summer Savings Continue! Save 50% off appetizers, salads, and entrees at Pazzo! Cucina Italiana. Simply become a member of the Wine, Dine & Whiskey Club to enjoy the savings!

For Membership Details, Click Here
Norris Center October 2022 Art Exhibit Featuring Giampaolo E. Curreri




A painter ... made in Italy! Born in Milano, Italy, he frequented art schools and received advertising and marketing degrees in his professional education. With his family, he resided in San Francisco, California for thirty-seven years, before relocating with his wife Rose to Naples, Florida in December...

Read More

Shop Dario Campanile




From surreal conversations with Salvador Dalí to the iconic Paramount Pictures mountainscape—Dario Campanile's vibrant artistry knows no limits. Shop all available works by Dario Campanile. "Working in abstract for me is the most direct and pure form of artistic expression coming from my unconscious," explained...

Read More
Dine on Fifth
Join us here on Fifth Avenue for a great meal.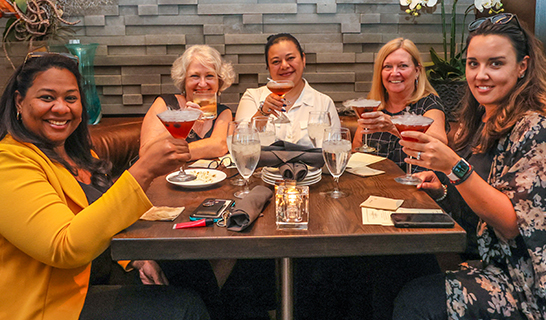 Shop on Fifth
Shop a variety of stores here on Fifth Avenue.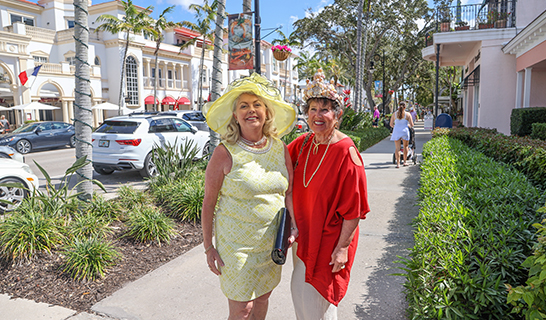 Play on Fifth
Join us here on Fifth Avenue for some fun.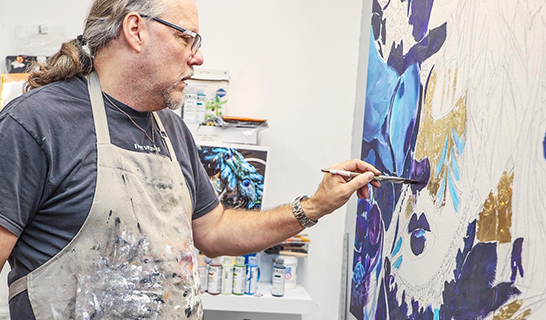 Concierge Services on Fifth
Many concierge services are offered right here on Fifth Avenue.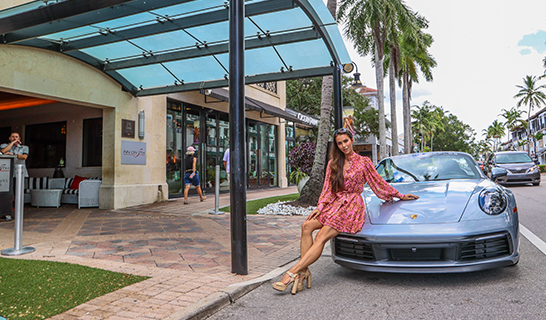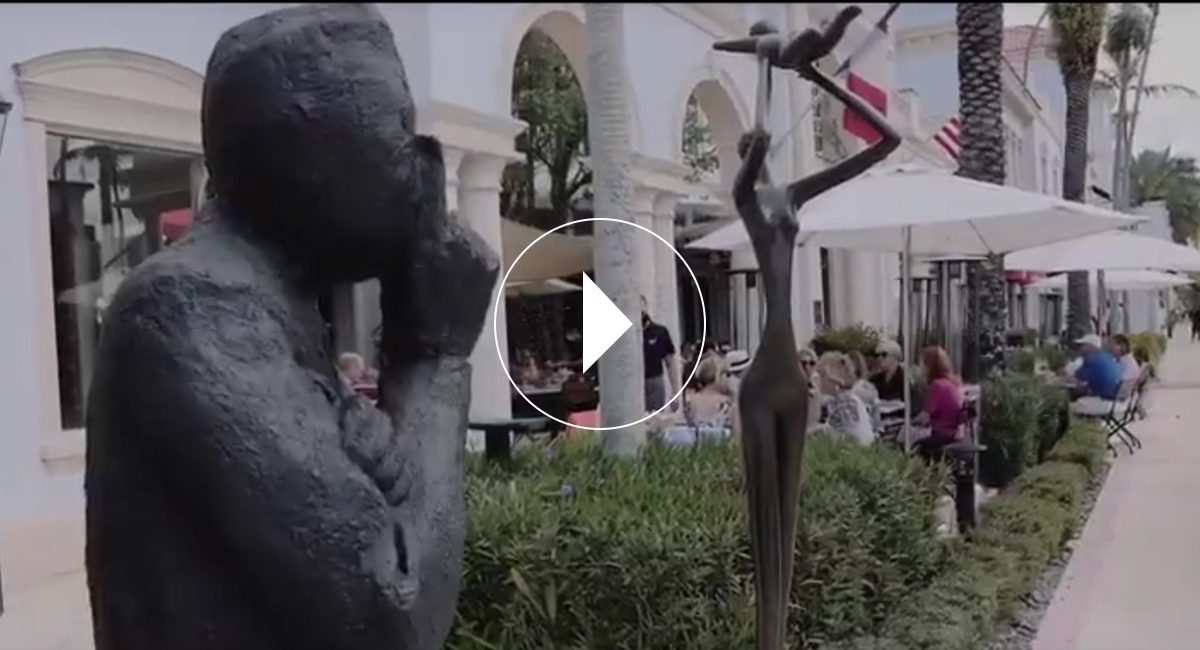 5th Avenue South | The Crown Jewel of Naples
Watch Video

5th Avenue South Business Improvement District
community partners & sponsors